White Chocolate Cake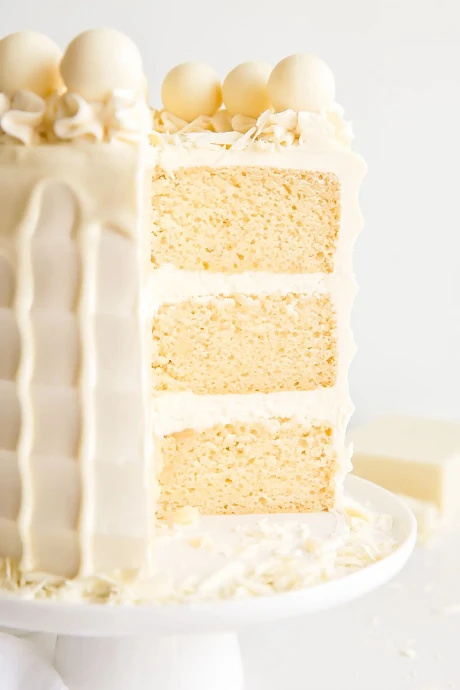 This White Chocolate Cake is both decadent and delicious! White chocolate is incorporated into the cake layers, the frosting, and the drip for a stunning monochrome effect.
The cake layers of this White Chocolate Cake have white chocolate incorporated right into them. I melt down some white chocolate with the milk, and add that to the cake batter once it's cooled. The flavor isn't crazy strong, but it is quite noticeable, especially to anyone who loves white chocolate. The recipe as-is will also work in two 8″ pans. For three 8″ pans, 1.5x the recipe.
To make cupcakes, all you need to do is reduce the baking time — start checking at 15mins or so.
Ingredients:
White Chocolate Cake:
5 oz white chocolate chopped (or white chocolate chips)
1 1/2 cups milk
2 1/2 cups all-purpose flour
2 1/2 tsp baking powder
1/2 tsp salt
3/4 cup unsalted butter room temperature
1 1/4 cups granulated sugar
3 large eggs room temperature
1 tsp vanilla
White Chocolate Swiss Meringue Buttercream:
6 large egg whites
2 cups granulated sugar
2 cups unsalted butter room temperature
6 oz white chocolate chopped, melted, cooled
White Chocolate Ganache:
3.75 oz white chocolate finely chopped
1.5 oz heavy cream
5 drops bright white color gel
Assembly:
12 white chocolate Lindt truffles
white chocolate shavings