Shrimp Quesadilla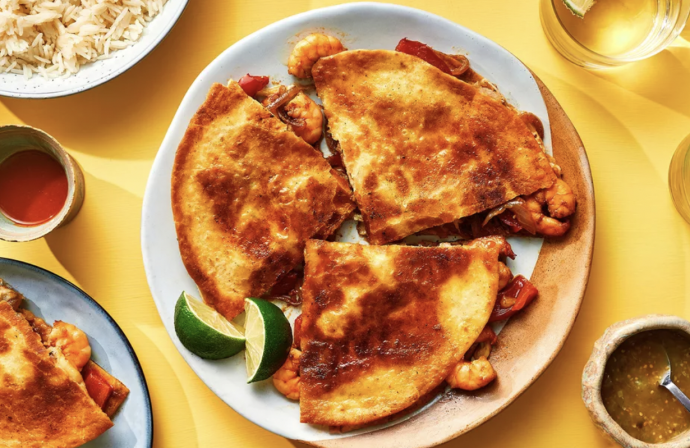 Quesadillas are an easy weeknight meal all wrapped in a delicious, crispy, buttery tortilla. This version combines shrimp, peppers, onions, and melty Monterey Jack cheese, but you could also use chicken or beef or go meatless and add grilled vegetables like zucchini or drained black beans.
Any melty cheese will do, like Mexican blend, cheddar, or mozzarella. Skipping the cheese is a nonstarter for this meal, as "quesadilla" literally translates to "cheese little thing" in Spanish. Try serving yours with classic pico de gallo or a zesty salsa verde along with pickled jalapeños and sour cream. If you prefer to chop your shrimp before cooking and building your quesadilla, that is totally OK. Doing this will help ensure you get bits of shrimp in every bite. Just be sure to lower your cooking time slightly so you don't overcook the shrimp.
This is a meal to make in real time. Trying to make it ahead of time could yield a soggy quesadilla and reheating the shrimp in the microwave could give it a rubbery texture. This quesadilla is great next to a plate of black beans topped with cotija cheese and Spanish rice. You could even cut the quesadillas with cookie cutters in the shape of stars and lightning bolts (or hearts for valentines day and snowmen for wintertime) to make lunchtime a bit more fun for your kids. Plus, you get to eat all the crispy edges yourself.
Ingredients:
2 tablespoons olive oil
1/2 medium yellow onion, sliced
1/2 bell pepper, sliced
1/4 pound uncooked large shrimp, peeled and deveined
1 teaspoon onion powder
1 teaspoon garlic powder
1/2 teaspoon paprika
1/2 teaspoon ground cumin
Kosher salt, to taste
2 tablespoons butter, at room temperature, divided
2 10-inch flour tortillas
1 1/2 cups shredded Monterey Jack cheese