Pumpkin Whoopie Pies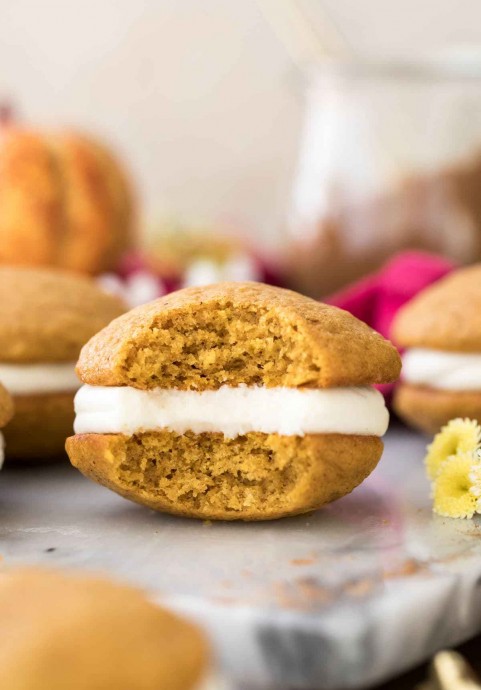 Pumpkin Whoopie Pies are Fall-inspired treats made with cakey, perfectly spiced pumpkin cookies sandwiched around a cream cheese based filling! They're basically a Fall variation of classic whoopie pies, brilliantly spiced with pumpkin pie spice and extra cinnamon, a splash of vanilla and brown sugar. The batter is simple to make and is much like a pumpkin cake batter (so don't be alarmed when it's not stiff like cookie dough). It's thin, but we'll bake it on higher heat so the cakes bake up nice and rounded (and fluffy!).
Classic old-fashioned whoopie pies use what is essentially ermine frosting as the filling, and many other recipes online use marshmallow fluff. For these pumpkin whoopie pies you can absolutely use ermine or a fluffier variation of cream cheese frosting. Besides, can you think of a better pairing for pumpkin than cream cheese. Serve them with your favorite fall drink! Easy to make and so tasty!
Ingredients:
3/4 cup unsalted butter melted and cooled
3/4 cup light brown sugar firmly packed
1/4 cup granulated sugar
1 cup pumpkin puree
2 large eggs lightly beaten (room temperature preferred)
1 ½ teaspoon vanilla extract
1 2/3 cups all-purpose flour
1 teaspoons baking powder
3/4 teaspoons baking soda
3/4 teaspoon salt
2 teaspoons pumpkin pie spice
1/2 teaspoon ground cinnamon
3 Tablespoons unsalted butter softened
6 oz cream cheese softened
3/4 teaspoon vanilla extract
⅛ heaping teaspoon salt
2-3 cups powdered sugar