Turkey Bolognese Stuffed Peppers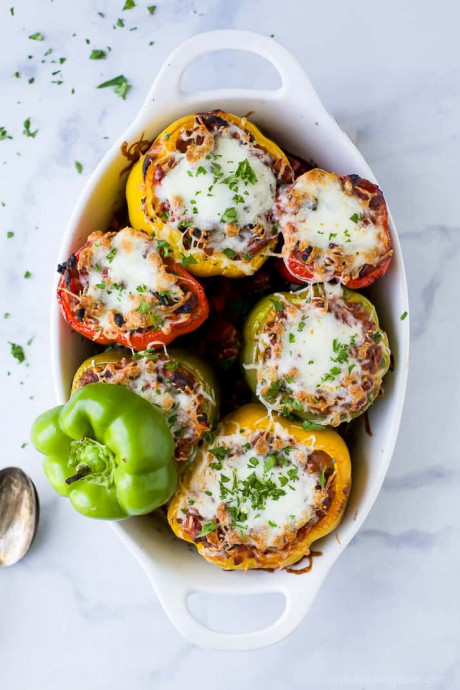 Gluten Free Turkey Bolognese Stuffed Peppers a simple dinner recipe filled with rich flavor your family will love. These Stuffed Peppers make the perfect comforting weeknight meal!
Normally the name of my game is short and to the point … at least when it comes to food. I usually like to have dinner on the table in 30 minutes or less. But you know what. There is something to say about recipes that take that "long and slow" technique. And todays recipe is just that.
They are absolutely divine. It's the perfect simple dinner recipe as we head into the fall or school year. It can easily be made ahead and then thrown in the oven right before dinner time.
These peppers are less than 300 calories, low carb and have 23 grams of protein per serving. But most of all they are bursting with deep flavor!
Bon Appetit friends!
Ingredients:
4 strips of bacon, diced
1 medium yellow onion, diced
3 garlic cloves, minced
2 stalks of celery, diced
1 red pepper, diced
2 carrots, diced
1 lb. ground turkey
1/2 cup dry red wine
1 1/2 tablespoons tomato paste
2 teaspoon basil
2 teaspoon parsley
2 teaspoon oregano
salt to taste
28 oz. crushed tomato with basil
6 bell peppers assorted colors, tops cut off and seeds removed
6 tablespoons shredded mozzarella cheese
chopped parsley for garnish