Loaded Pizza Sandwich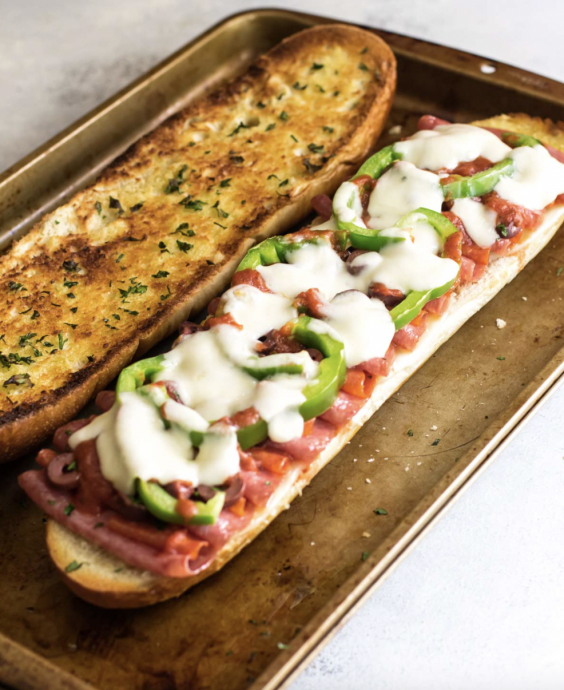 Loaded Pizza Sandwich with all the toppings! Load it up, toast it, and slice it for an easy dinner or party snack. All it takes is some bread, some classic pizza toppings, sauce, and plenty of cheese to serve up your favorite pizza in sandwich form.
Since the Earl of Sandwich first asked for some meat nestled in between two slices of bread (although there is evidence that his idea was not completely original) it's safe to say that sandwiches have won the hearts of many.
I mean, do you know anyone who hates sandwiches? If you do, I don't think they're worthy of your trust.
And while my choice of sandwich mostly runs the simple roast-beef-on-wheat-with-mayo-and-mustard variety with some crisp lettuce and a juicy tomato slice, sometimes I crave something a little more fun like a big o' pizza sandwich.
This pizza sandwich is meant for sharing – think of it as a mini party sub for four. It's toasty hot with lots of toppings and, of course, plenty of melted cheese.
Ingredients:
1 12 inch loaf of French bread, sliced horizontally in half
2 tablespoons olive oil
3 slices provolone cheese
3 ounces Genoa salami slices
2 ounces pepperoni slices
1/2 tablespoon fresh herbs (thyme, parsley, basil or combination)
1/4 cup sliced Kalamata olives
1/2 green pepper, cut into strips
1/3 cup jarred marinara sauce
6 ounces fresh mozzarella slices