Slow Cooker Pork Tacos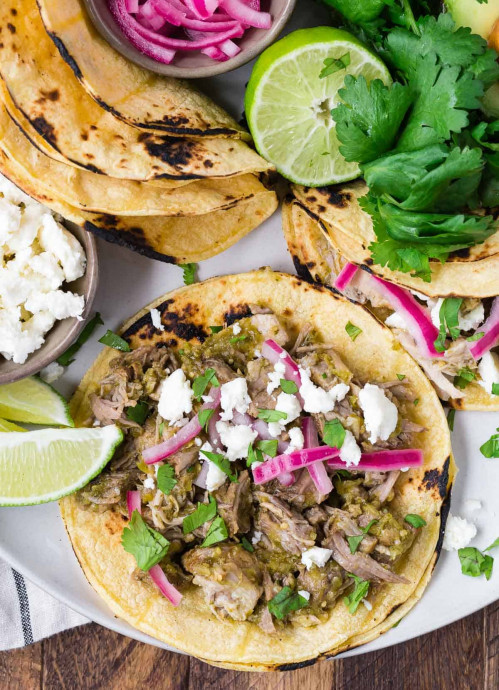 Change up your taco menu with slow cooker pork tacos, a Mexican riff on tender pulled pork with green tomatillo sauce. Serve on warm corn tortillas with all the fixings.You'll love these meltingly tender pulled pork tacos with flavorful green tomatillo sauce! Piled on a charred corn tortilla with pickled red onions and soft queso fresco, and dripping with warm salsa verde, rich meaty pork tacos are a taste sensation.
Perfect for parties, or for meal prepping, slow cooker pork tacos can be made ahead and simmered in a crockpot all day. Enjoy the rich aroma coming from your crockpot all afternoon. Just before serving, shred the meat, prepare the toppings, and enjoy!
Ingredients:
1 ½ to 2 lbs. boneless pork shoulder, cut into 1-inch cubes
3/4 pound (5 to 6 medium) tomatillos, husked and rinsed
1/2 medium yellow onion, cut into quarters
2 jalapeños, stemmed, halved and seeds scraped out
2 garlic cloves, peeled and halved
1/4 cup (loosely packed) roughly chopped cilantro, plus more for serving
2 teaspoons Worcestershire sauce
1/2 teaspoon kosher salt
½ teaspoon coarse ground black pepper
Garnishes: pickled red onions, lime wedges, queso fresco cheese, additional cilantro, avocado