Pizza Rustica (Savory Ricotta Pie)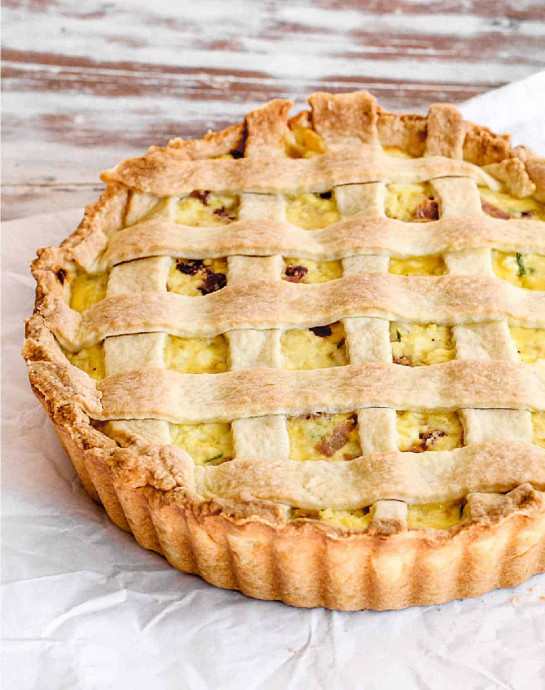 This is a classic Italian Easter pie made with ricotta, mozzarella, and deli meats. The crust is slightly sweet, something that goes incredibly well with the salty filling. It's a traditional dish that freezes beautifully and a great recipe for leftovers: ham, prosciutto, pepperoni, cheese. Personally, it's one of my favorite things to eat year-round.
I think that's the first question everyone makes! It's also called pizza chiena which means filled pizza. So even though it's made with the Italian pie crust (pasta frolla) similar, it does resemble a stuffed pizza if made with a double crust instead of a lattice. Sort of. Maybe.
Anyway, pie or pizza, this is a recipe to try as soon as you can! It's truly delicious, and the filling can be adjusted to your palate, or to the leftovers in your refrigerator, whatever comes first lol.
The original ingredient is called basket cheese, which I never had outside Italy, but is sort of a mix of ricotta and mozzarella, two ingredients found in this recipe today. You can buy it online and I will leave the links in the Notes of the recipe card.
Ingredients:
For the dough:
1 recipe for Italian Pie Crust (pasta frolla) using 3 tablespoons of sugar
For the filling:
1 pound (450g) ricotta cheese
3 eggs, at room temperature
1 tablespoon olive oil
⅓ cup grated parmesan cheese (or pecorino romano or asiago cheese)
½ cup chopped salami or pepperoni or soppressata (or a mix)
½ cup chopped mortadella or ham (or a mix of both)
½ cup diced mozzarella cheese
1 tablespoon chopped basil or parsley, optional
Salt and pepper, to taste