Love Real Food Spring Pea and Asparagus Risotto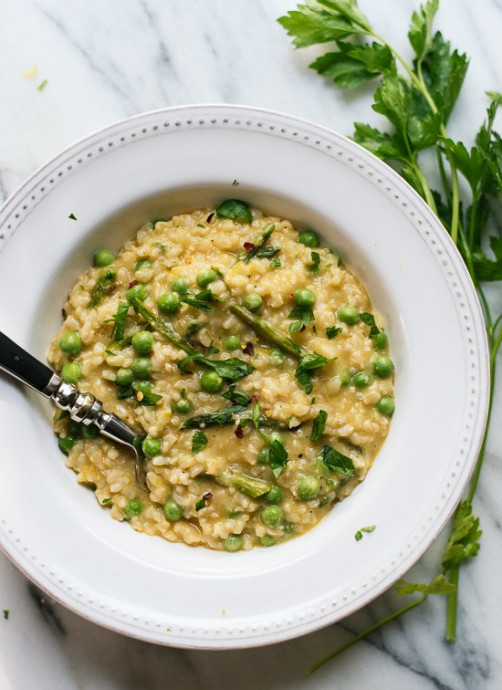 Simple springtime risotto featuring English peas, asparagus, lemon and parsley! This risotto is baked in the oven and requires minimal stirring. The recipe is designed for brown arborio/short grain brown rice so any grain substitutions will affect baking time. (White arborio rice will only need to be baked for 40 to 45 minutes.) Look for brown arborio/short-grain brown rice at well-stocked grocery stores or health food stores. Skip the wine if you don't drink, but it adds a lovely depth of flavor. Recipe yields 4 to 6 servings.
For this springtime take on risotto, I kept it simple and steamed the peas in the pot during the last ten minutes of baking. I opted to roast the asparagus while the pot is in the oven, since roasted asparagus tastes best.
It all comes together painlessly and leaves plenty of time to clean up and sip some leftover white wine while the risotto bakes in the oven. Let me know how you like it!
Ingredients:
3 tablespoons olive oil, divided
1 cup chopped yellow onion (about 1 small yellow onion, chopped)
2 cloves garlic, pressed or minced
5 cups (40 ounces) vegetable broth, divided (if your broth comes in 32-ounce containers, feel free to avoid opening another container by substituting 1 cup water for 1 cup broth in step 3)
1 ½ cups brown arborio/short-grain brown rice
1 big bunch of fresh asparagus spears (about 1 pound)
1 ½ cups fresh English peas (about 8 ounces)
1 cup freshly grated Parmesan cheese
½ cup dry white wine, optional
3 tablespoons unsalted butter, diced
1 teaspoon sea salt, more to taste
Freshly ground black pepper, to taste
Pinch red pepper flakes, to taste
Zest and juice of ½ lemon, preferably organic (about ¼ teaspoon zest and 1 tablespoon juice)
Handful chopped fresh parsley, for garnish