The Best Chicken Ramen Noodles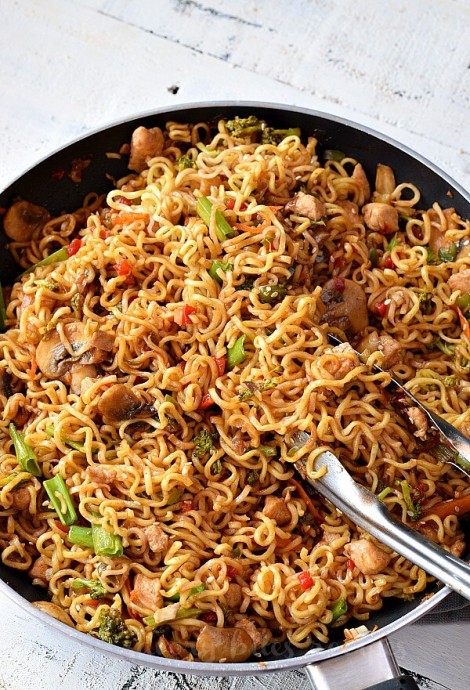 Fix easy, quick and delicious dinner with this under 30 mins Chicken Ramen Noodles recipe, that you will love. Ramen noodles are everyone favorite plus when you add chicken, veggies and amazing homemade ramen seasoning sauce then this chicken ramen becomes restaurant style food. The chicken ramen recipe is best as it can be prepared in no time plus add veggies of your choice makes this homemade chicken ramen stir fry recipe the best!
Try this easy, delicious and quick under 30 mins Chicken Ramen Noodles, which has juicy delicious chicken along with veggies of your choice and quick homemade ramen seasoning sauce. To make the ramen noodle a healthy and delicious meal, just discard the seasoning packet which comes along with the noodle packet, replacing it with a homemade sauce.
If you are planning to make soupy spicy ramen recipe then you can add chicken to stock and then cook the chicken in broth and further shred it that adds lot of flavors to final soup. Another delicious way of adding chicken to ramen is in stir fry recipe where you first caramelize the chicken in the wok/pan or grill and then make pieces of chicken or chop the chicken and fry it till it caramelizes and further add to the ramen. Both ways are perfect for a family dinner. Enjoy!
Ingredients
For Ramen Stir Fry Sauce:
2 Tbsp Light Soy Sauce, low sodium
2 Tbsp Dark Soy Sauce, low sodium
2 Tbsp Worcestershire sauce
3 Tbsp Sriracha
2 tsp White Vinegar
2 Tbsp Hoisin sauce
1/2 Tbsp Brown Sugar
1/2 tsp Black Pepper Powder
1 Tbsp Water
For Chicken:
1 Cup Chicken Thigh/Breast, pieces
As per need Salt
1/2 tsp Black Pepper Powder
1 Tbsp Light Soy Sauce, low sodium
1/2 tsp Cornstarch
Additional:
3 Packets/ Blocks ,Ramen Noodles/Instant Noodles(Maggi),discard seasoning packet
2 Tbsp Vegetable Oil/Sesame Oil
5 cloves Garlic,minced
1 Inch Ginger,minced
1 small Red Bell Pepper,chopped
1 small Green Bell Pepper,chopped
1 small Onion,chopped
2 Spring Onion,chopped,whites and green separated
1/3 Cup Broccoli florets,chopped
1/3 Cup White Button Mushrooms,sliced
1/4 Cup Carrot,sticks