Skillet Sun Dried Tomato Chicken Thighs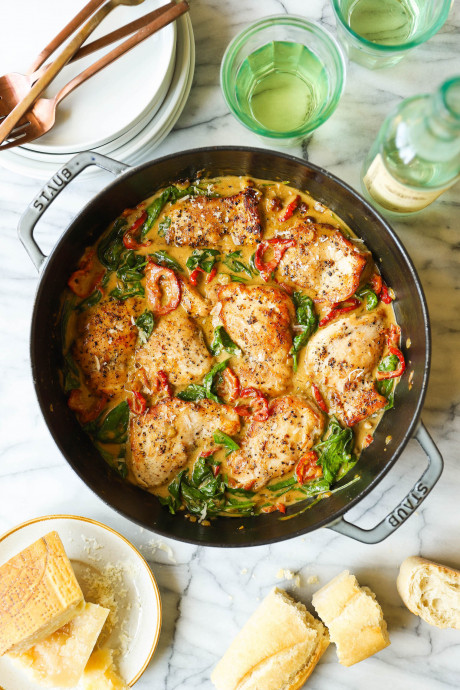 Juicy, golden brown chicken in the sauciest, sun dried tomato cream sauce with sneaked-in greens! So much yes here.
Juicy, tender, perfectly cooked chicken thighs. The creamiest, sauciest, garlicky sun dried tomato cream sauce. Sneaked-in greens (always a plus). And freshly grated Parmesan? Yes, yes, yes!
When I'm feeling super fancy, I'll serve this with my favorite IP mushroom risotto and all the crusty bread. Oh and extra Parmesan for serving. Because you can never ever have enough.
Ingredients:
1 1/2 pounds boneless, skinless chicken thighs
Kosher salt and freshly ground black pepper, to taste
5 1/2 tablespoons all purpose flour, divided
1 tablespoon canola oil
1 tablespoon unsalted butter
3 cloves garlic, minced
1 small shallot, diced
1 cup chicken stock
1/2 cup half and half
1/2 cup sun dried tomatoes halves
2 cups baby spinach
3 tablespoons freshly grated Parmesan
2 tablespoons chopped fresh parsley leaves