Cream Horns (Lady Locks)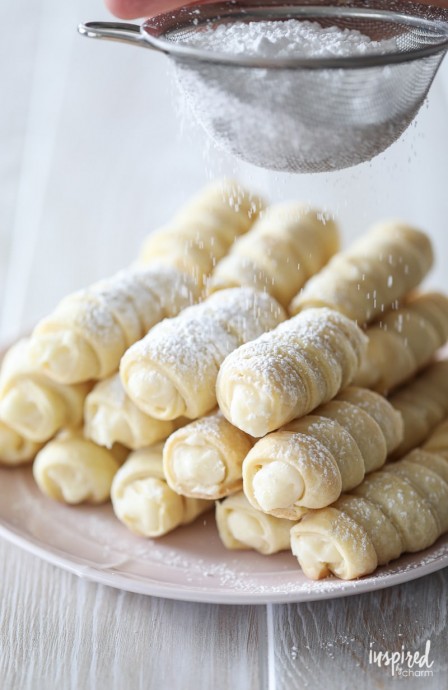 Crispy and buttery puff pastry cannoncini (horns) filled with velvety and rich custard cream.
These Cream Horns (Lady Locks) are a must-have cookie recipe for my family. The flaky crust and creamy filling make them irresistible!
To make them, you'll need a mold to form the horn around. My Aunt Maggie uses a clothespin wrapped in foil, so that's what I did. You just wrap a piece of foil around a clothespin. It's as simple as that. However, if you're feeling fancy, you can certainly use a store-bought mold.
The filling is similar to a buttercream icing, but it also incorporates a milk-and-flour paste which felt very old-fashioned to me. Of course, you can fill these horns with whatever filling you like best. The result is a flaky cookie horn filled with a sweet, creamy filling. What's not to love? I think these cream horns might be your new favorite cookie.
Ingredients:
2 cups (4 sticks) unsalted butter, softened
2 tablespoons vegetable shortening
1 tablespoon sugar
2 egg yolks
1 cup cold water
4 1/2 cups all purpose flour
Clothespins wrapped in foil or lady lock molds
2 cups milk
1/3 cup all purpose flour
1 cup (2 sticks) unsalted butter, softened
1 cup vegetable shortening
1 teaspoon vanilla
1/2 teaspoon kosher salt
4 cups confectioners' sugar
Additional confectioners' sugar for garnish