Spinach Artichoke Dip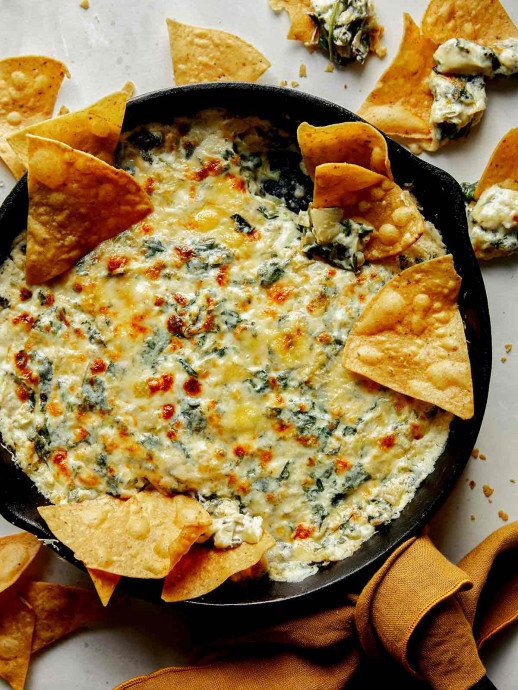 The easiest and most delicious Spinach Artichoke Dip recipe you'll ever taste! Our recipe is a no fuss, creamy and delicious dip that literally disappears within minutes every time we serve it!!
How has it taken us over 10 years to have a proper Spinach Artichoke Dip recipe on the site?! Well we have one now and I guess that's all that matters! Anyway, it's our opinion that spinach artichoke dip is THE dip of all of dips!
What is there not to love about a warm, creamy, and cheesy dip that can be made with a handful of ingredients in under 30 minutes? The answer is absolutely nothing! I still get excited when I see it on a menu and order it every single time. A lot of spinach artichoke dip recipes call for frozen (thawed) spinach, to save on time, but we prefer to use fresh spinach. Not only do we prefer the taste, we actually think it takes more time to use frozen spinach considering you still need to thaw, squeeze and chop frozen spinach.
Ingredients:
8 ounces softened cream cheese
4 tablespoons mayonnaise
8 ounces baby spinach, wilted, squeezed and chopped
8 ounces jarred artichoke hearts, drained and chopped
1 minced garlic clove
2 1/2 ounces shredded mozzarella cheese, divided
2 1/2 ounces shredded gruyere cheese, divided
2 ounces grated Parmesan cheese
1/2 teaspoon salt
1/2 teaspoon black pepper