Vegan Tofu Rogan Josh (Tofu In Chili Yogurt Sauce)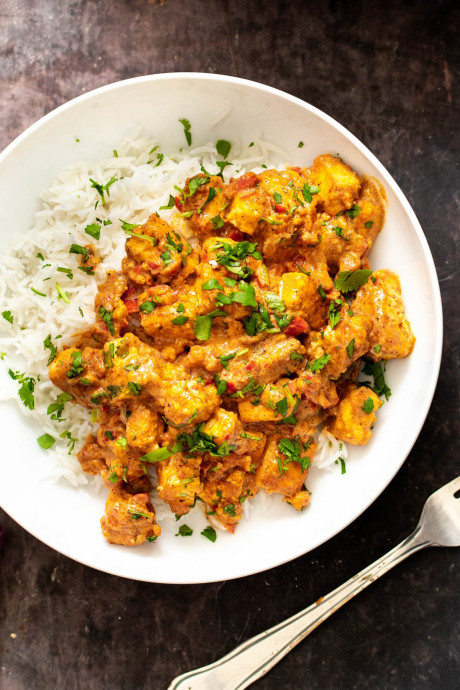 Packed with flavor this vegan Tofu Rogan Josh is a plant-based version of the classic restaurant-style dish. This rich and fragrant kashmiri curry can be ready in just under an hour and is rich in protein. Gluten-free Nutfree, Soyfree option. No onion garlic tomato.
Coming at you with another plant-based version of a classic Indian dish – Kashmiri Rogan Josh. This dish is a popular dish from the state of Kashmir, usually made with some kind of meat. It is often served as a part of wazwan(multi course meal). Rogan josh roughly translates to a fiery hot or fiery looking dish cooked in oil. The color of the dish comes from Kashmiri chilies and ratanjot(alkanet flowers). We use Kashmiri chilies or paprika and some red bell pepper instead.
Depending on the region, Rogan josh can have added onion garlic. The region being in the Himalayan mountain range, means cold winters and limited availability of fresh vegetables. So, many Kashmiri dishes rely on spices for flavor. This recipe just happens to be onion garlic and tomato free. You can add some onion and garlic if you like.
This vegan tofu rogan josh is easy to make and spice level can be adapted to make it suitable for the whole family. Kashmiri chilies are mild but can sometimes be moderately hot.
Ingredients:
For the tofu :
14 ounce (396.89 g) firm or extra firm tofu pressed at least for 15 minutes then cubed.
1 teaspoon kashmiri chili powder or paprika
1/4 teaspoon salt
1 tablespoon cornstarch
For the ground spices
2 teaspoons oil
1/2 teaspoon fennel seeds
1/2 teaspoon coriander seeds
1/4 teaspoon black peppercorns
1 teaspoon dry ginger powder
3 green cardamom pods or 1/2 a teaspoon ground cardamom
3 or 4 saffron strands
2-3 teaspoon kashmiri chili powder or use 1 dried Kashmiri chili or a guajillo pepper (remove most seeds)
For the sauce:
1 teaspoon oil
2 bay leaves
3 cloves
3 green cardamom pods open slightly
1 cinnamon stick
1/4 teaspoon asafetida hing or use 1/2 teaspoon of garlic powder, add later with the yogurt
1/2 of red bell pepper chopped small
1/2 cup (120 g) unsweetened non-dairy yogurt such as almond milk yogurt, soy yogurt, cashew or coconut yogurt
1/2 teaspoon or more salt
3/4 cup (180 ml) water
1/4 teaspoon cayenne optional
cilantro and lemon juice for garnish