Vegan Swedish Meatballs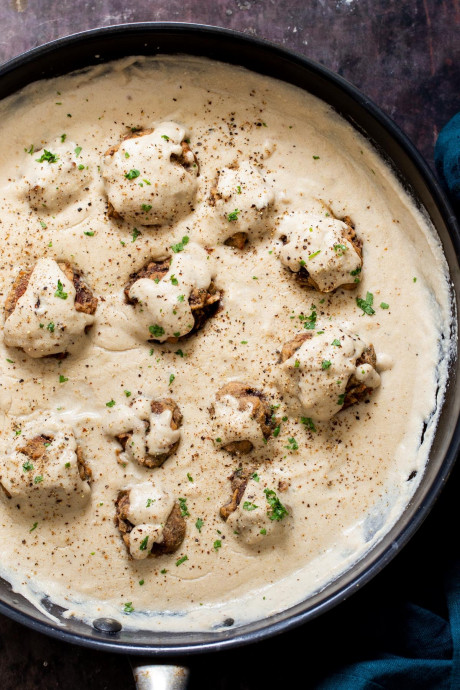 Try this new take on Vegan Swedish Meatballs! This recipe skips the meat substitutes and is made with baked whole cremini mushrooms simmered in a plant-based dairy-free creamy gravy! DIVINE! Gluten-free , Nutfree options.
Coming at you with a new take on Vegan Swedish Meatballs! Instead of trying to replicate the texture of meatballs using lentils or vegan meat crumbles, we take a different approach to this comfort food classic. Enter mushroom balls!
Yes, I use whole mushrooms in this recipe as a stand-in for meatballs! No meatballs rolling and shaping is needed. We're talking about battered mushrooms that are baked into juicy delicious perfection! These make for a great sub for meatballs and tossed with a classic meatball gravy, they are just to die for.The vegan mushroom gravy is made with homemade cashew milk, mushroom broth and a vegan roux, making it rich and creamy without any dairy. Serve this recipe to any vegan or carnivore and they are sure to be pleased.
Ingredients
1/2 pound (226.8 g) whole cremini or white or baby bella mushrooms about 14-16
For the marinade:
3 tablespoons vegan yogurt
2 teaspoons oil
1/2 teaspoon garlic powder
1/2 teaspoon onion powder
1/2 teaspoon black pepper
1/4 teaspoon all spice
1/4 teaspoon ground nutmeg
1/4 teaspoon salt
2 teaspoons dried parsley
1 teaspoon vegan worcestershire sauce
2 tablespoons rice flour, or use all purpose flour
For the sauce:
2 tablespoons vegan butter
2 tablespoons all purpose flour or use a gluten free blend to keep it gluten free
1 cup (240 ml) mushroom broth or 1 cup water plus 1 teaspoon dried mushroom powder
2 cups (475 ml) cashew milk (blend 1/3 cup of raw cashews and 2 cups of water until smooth) See notes for Nutfree
1 tablespoon vegan worcestershire sauce
1/2 - 1 teaspoon dijon mustard
1/2 teaspoon salt
1/2 teaspoon dried parsley or dried italian herb of choice
black pepper for garnish