Vegan Banana Oatmeal Bars With Cinnamon Crumb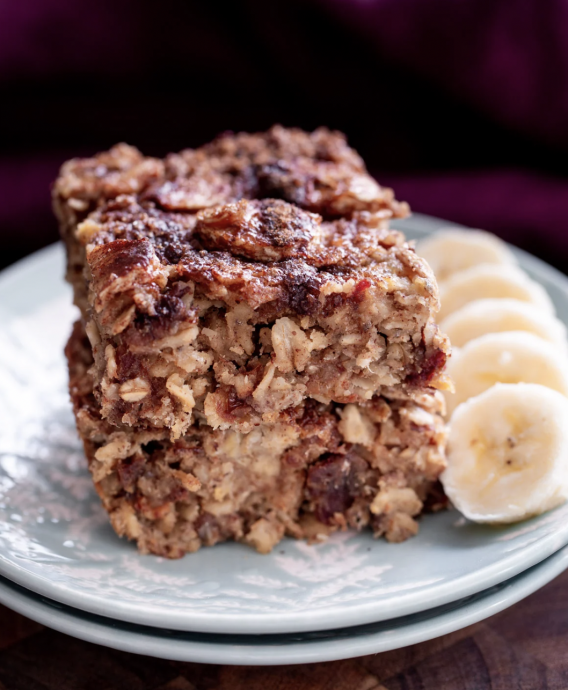 Vegan Banana Oatmeal Bars topped with Caramelized Bananas and cinnamon crumb! They need just 1 Pan, are Glutenfree, refined sugar free, refined oil free! These Banana Bread oat bars come together quickly and are perfect on the go snack or breakfast!
These Banana Oatmeal Bars are the next best thing next to banana bread! I have a thing for roasting bananas. I discovered this technique when I made banana bread baked oatmeal and have started doing it for most of my banana flavored baked good recipes. Their natural sweetness intensifies and their flavor gets so much more vibrant!
What else is to love about Banana Oatmeal Bars? Well, they are made with oats and almond flour so gluten-free and there is no refined sugar added to the batter but we do add a splash of maple syrup some coconut sugar on top for that caramelized brown sugar cinnamon crumb topping that makes these so unique.
Ingredients:
2 (236 g) very ripe bananas
1/4 cup (60 ml) maple syrup use 3 tablespoons for less sweet
2 tablespoons almond butter
1 cup (250 ml) non-dairy milk such as almond, oat or light coconut
½ teaspoon vanilla extract
2 cups (160 g) old fashioned oats
¼ cup (30 g) almond flour or a gf blend, or use all purpose flour if ok with gluten
1 teaspoon baking powder
1 teaspoon cinnamon
¼ teaspoon salt
¼ cup (40 g) chopped nuts almonds, walnuts, pecans or other
2 tablespoons shredded coconut optional
2 teaspoons chia seeds
3-4 dates chopped
For the topping
1 tablespoon coconut sugar or brown sugar
½ teaspoon cinnamon
1 ripe banana sliced 2 mm thick slices