Traditional French Galette des Rois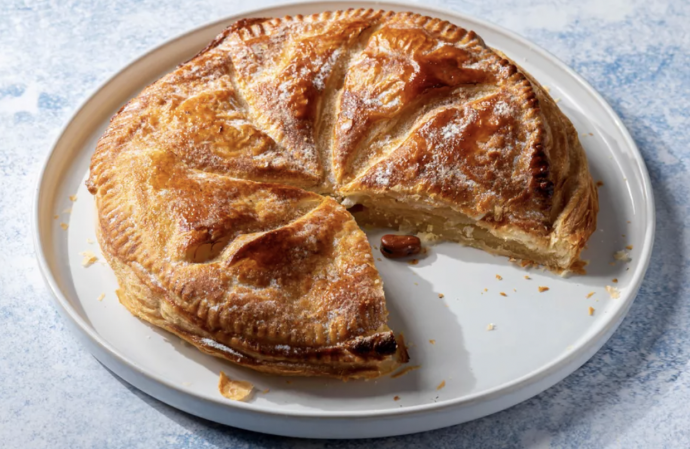 For an extra-special holiday treat, bake this delicious galette des rois, a traditional French cake usually served on Epiphany, the day the Three Kings visited the baby Jesus. The name translates to "king cake," and is similar to the Mardi Gras king cake in that it also features a small prize hidden inside the filling.
A galette des rois is made of an irresistibly creamy almond filling sandwiched between two flaky, buttery layers of puff pastry. The ingredients for almond cream all go into a food processor to blend, and then the paste is spread onto store-bought puff pastry, making this impressive cake simple to put together. Once you master this foolproof recipe, you can experiment with different fillings or make your own puff pastry. Serve slices of the galette with tea or cafe au lait to balance the cake's sweetness.
When it comes to the small prize (called a fève) hidden inside the filling, bakeries opt for porcelain or plastic figures, but a home baker can use a dried fava bean instead. The lucky guest who finds the fève becomes the "king" or "queen" of the evening and wears a paper crown. Of course, make sure to warn everyone about the fève—if you don't, some guests may leave the party with broken teeth. If you're making this cake for children, consider leaving out the fève altogether.
Ingredients
For the Almond Cream Filling:
1/2 cup almond meal
1/4 cup granulated sugar
1 large egg
3 tablespoons butter, softened
3/4 teaspoon vanilla extract
1 tablespoon all-purpose flour
For the Cake:
17 ounces puff pastry, thawed
1 dried fava bean, optional
1 large egg, beaten
2 tablespoons confectioners sugar