Perfect Pumpkin Layer Cake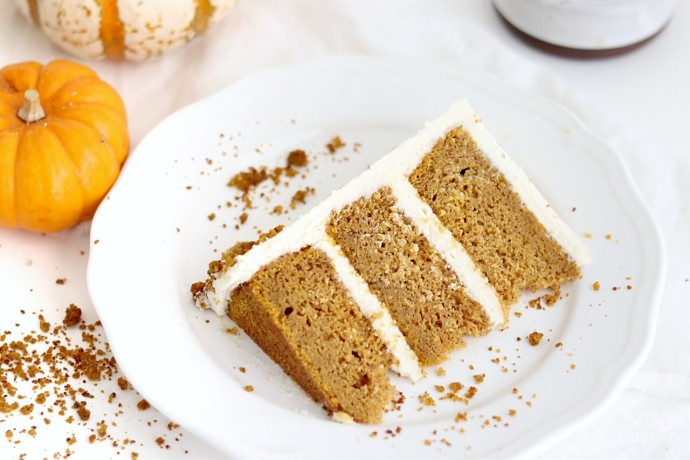 The pumpkin flavor of this cake comes from canned, pureed pumpkin and a medley of beautiful spices: cinnamon, allspice, nutmeg, and ground ginger. It's so classic to pair this pumpkin layer cake with cream cheese buttercream, and in my opinion the flavor combo never gets old. I bet it would taste amazing with my spiced chai vanilla buttercream too if you want to get really autumnal (imagine a pumpkin spiced chai latte but in cake form!).
It's deliciously moist because of the buttermilk, totally fluffy from the cake flour, and the combination of sweetness and spice is divine. The cream cheese buttercream recipe is sturdy and pipe-able without being overly sweet, which is why it's my forever go-to. Probably the easiest way to create buttercream pumpkins, ever.
I decided to repurpose some of the pumpkin cake scraps into toasted cake crumbs that I pressed onto the sides of the cake and sprinkled around the piped pumpkins on top. It adds a great texture and I always feel good about finding a way to use leftover cake!
Ingredients:
2 3/4 Cups (290g) cake flour, sifted before measuring
2 1/2 tsp baking powder
1 tsp baking soda
1 tsp salt
2 tsp ground cinnamon
1 tsp allspice
1 tsp nutmeg
1/2 tsp ground ginger
1 Cup (226g) unsalted butter, room temperature
3/4 Cup (140g) packed brown sugar
1 Cup (205g) white granulated sugar
3 eggs, room temperature
2 tsp pure vanilla extract
1 1/2 Cups (12 oz) canned pumpkin puree
1 Cup (240ml) full fat buttermilk
1 Cup (226g) unsalted butter, room temperature
16 Oz cream cheese, room temperature
8 Cup (960g) powdered sugar, room temperature
1 Tbsp pure vanilla extract
1/2 tsp salt