Tiramisu Cake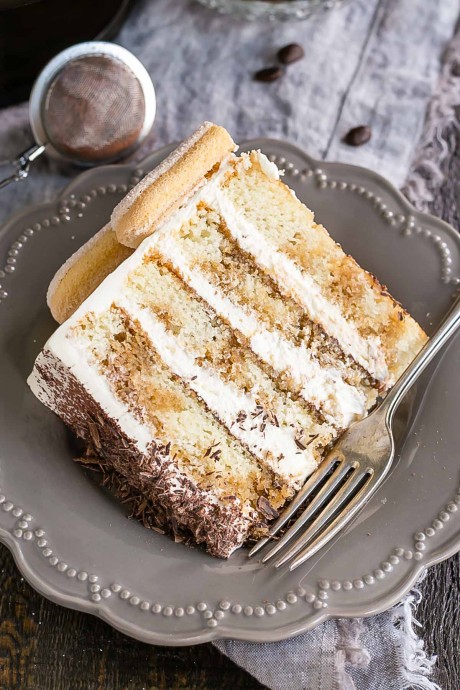 This Tiramisu Cake turns your favorite Italian dessert into a delicious and decadent layer cake. Coffee soaked layers paired with mascarpone buttercream. Tiramisu is an Italian dessert consisting of coffee-soaked lady fingers layered with a whipped mascarpone cream filling and dusted with cocoa powder. It is heaven.
The coffee simple syrup is a must do. Not optional especially since soaking lady fingers in coffee is a key part of the traditional dessert! Adding the coffee syrup adds a delicious flavor and moisture to the cake. You can leave the liqueur out if you prefer though. Those coffee soaked layers are some of the best I've ever had. And the mascarpone buttercream has just the perfect balance of flavors. It's a bit heavier than what you'd see in a traditional tiramisu, but I wanted the cake to have more structural integrity. Plus, I love a good buttercream. The recipe as-is will also work in three 6″ pans. For three 8″ pans, 1.5x the recipe. Baking time may need to be adjusted.
To make cupcakes, all you need to do is reduce the baking time — start checking at 15mins or so. The recipe will make 18-24 cupcakes depending on size.
Ingredients:
Coffee Simple Syrup:
1/2 cup water
1/2 cup granulated sugar
1 Tbsp instant espresso powder
1/4 cup coffee liqueur or dark rum optional
Vanilla Cake:
2 1/4 cups all-purpose flour
2 1/4 tsp baking powder
3/4 tsp salt
3/4 cup unsalted butter room temperature
1 1/2 cup granulated sugar
3 large eggs room temperature
1 1/2 tsp vanilla
1 cup buttermilk (or any milk) room temperature
Mascarpone Frosting:
1 1/2 cups unsalted butter room temperature
2 cups mascarpone room temperature
4 cups powdered sugar
2 tsp vanilla