Cream Cheese Chocolate Truffles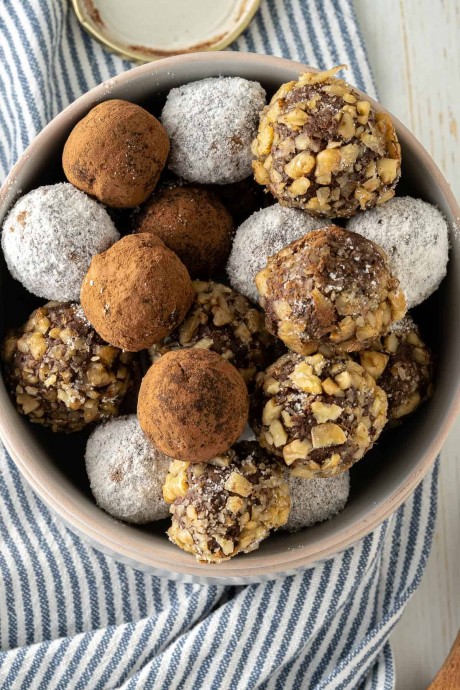 This Cream Cheese Chocolate truffle recipe is the perfect quick and easy keto dessert recipe for when that sweet tooth strikes. Made with only a handful of ingredients and completely customizable, there is sure to be a version for everyone. Storage: Store leftover keto chocolate truffles in the refrigerator for up to a week. Alternatively, you can freeze them for up to 6 months.
Add fruit: These cream cheese chocolate truffled are delicious with some chopped dried tart cherries.
Change up the nuts: In place of the walnuts, these are also delicious with peanuts, almonds, pecans, or cashews.
Ingredients:
6 ounces chocolate chips or dark chocolate, chopped (This is the low carb brand I use)
8 ounces cream cheese, softened
1 teaspoon pure vanilla extract
1 teaspoon liquid stevia
2 tablespoons unsweetened cocoa powder
1 cup chopped walnuts
2 tablespoons coconut flour
ground walnuts, for garnish
cocoa powder, for garnish
shredded coconut, for garnish