Oven-Fried Sanddab With Summer Salad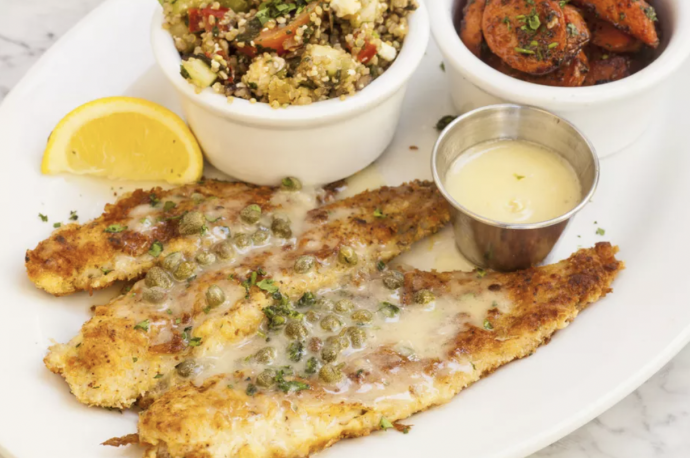 Sanddabs, also spelled "sand dabs," are a regional delicacy on America's Pacific Coast. They are little flounders that most cooks fry very simply in oil. This recipe uses the old Spencer Method of oven-frying, which uses a bit less fat—though it's no less caloric, as you'll be covering the fish in homemade mayonnaise before rolling them in breadcrumbs. Serve this with a chunky, summery salad of tomatoes, avocado, sweet corn and sweet onions for a delicious, casual meal for family or guests.
You don't have to make your own mayo; good quality store-bought is really just fine. But mayonnaise is easy to make and homemade tastes so much better, and it really is worth the little bit of extra time for an especially delicious meal.
To serve, take the fish out, let them rest a minute or two, then arrange one or two on a plate with the golden brown side up. The breading will not be crispy, but it will be savory and is intended to complement the lean and moist sand dabs. A rich white wine like a Roussanne or a buttery Chardonnay is good with this, but so is a lager or pilsner beer.
Ingredients
For the Mayonnaise:
1 large egg yolk
2 teaspoons freshly squeezed lemon juice
1 teaspoon water
1/2 teaspoon kosher salt
3/4 cup olive oil
For the Salad:
1 pound fresh tomatoes
2 medium avocados
3 tablespoons freshly squeezed lemon juice
1/2 cup coarsely chopped Vidalia onion
2 tablespoons finely chopped parsley
1 ear sweet corn
2 tablespoons olive oil
Salt, to taste
Freshly ground black pepper, to taste
For the Oven-Fried Sand Dabs
8 to 12 pan-dressed sand dabs
1 to 1 1/2 cups breadcrumbs