Thai Mango Cabbage Wraps with Crispy Tofu and Peanut Sauce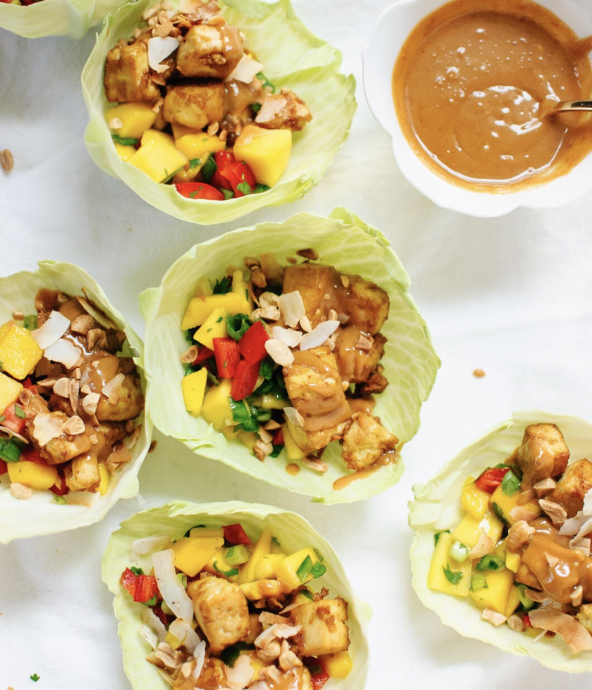 The whole buffet on one plate. It's exhausting. It can also be pretty embarrassing. Apologizing to everyone who's been trying to reach me by email for the past week? Embarrassing. Trying to eat a saucy, over-stuffed burrito in public? Very embarrassing. Also very messy. Burritos are best consumed in the privacy of one's own home.
Anyway. You should make these salad wraps. Over-stuff them all you want. I had a general "tropical salsa meal" concept on my recipe list already, but these wraps didn't come to be until I tried Ali's Thai-style nachos at her super cool loft. She topped her nachos with mango salsa and a drizzle of peanut sauce. Delicious!
Ingredients:
Crispy baked tofu
1 (15 ounce) block of organic extra-firm tofu
1 tablespoon olive oil
1 tablespoon reduced-sodium tamari or soy sauce
2 teaspoons arrowroot starch or cornstarch
Peanut sauce
⅓ cup creamy peanut butter
2 tablespoons white wine vinegar or apple cider vinegar
2 tablespoons reduced-sodium tamari or soy sauce
2 tablespoons honey or agave nectar or maple syrup
2 teaspoons toasted sesame oil
½ lime, juiced
2 garlic cloves, pressed or minced
Mango pico
2 ripe mangos, diced
1 medium red bell pepper, chopped
½ bunch (about 4) green onions, chopped
⅓ cup packed fresh cilantro leaves, chopped
1 jalapeño, minced
½ lime, juiced
¼ teaspoon salt
Everything else
1 small head of green cabbage (the smaller, the better) or bibb lettuce
2 tablespoons large, unsweetened coconut flakes* (optional)
2 tablespoons chopped peanuts (optional)