Loaded Caprese Grilled Cheese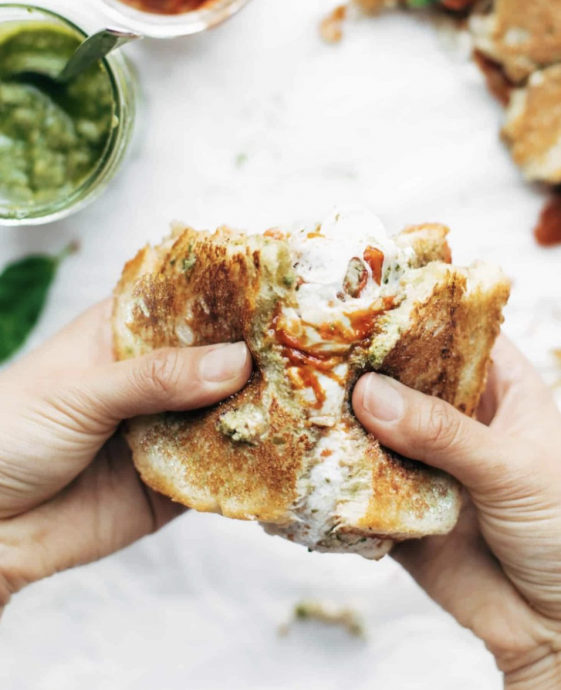 A key component to this cheese bomb masterpiece is the garlic butter tomato sauce, which comes together in about fifteen minutes and really deserves its own post. I've made variations of that garlic butter tomato sauce before, but this time the addition of balsamic is kicking it up a notch. Also, this one is THICK. Way thicker than any previous versions, in a really good way. It is borderline tomato jam, except not sweet, annnnd not really like jam. You guys know what I mean, right? Is this helping?
Molten mozzarella cheese will absolutely spill out the sides of your grilled sourdough, as will drips of pesto and chunky buttery garlic tomato sauce, and you will get a feeling in your heart that says: I was made for this caprese grilled cheese moment.
Ingredients:
For the Caprese Grilled Cheese:
4 large slices of thick, yummy sourdough bread
4 thick slices of fresh mozzarella cheese
1/4 cup pesto (see notes)
2 tablespoons butter – I used Land O Lakes® Salted Butter in Half Sticks
Garlic Butter Tomato Sauce (ingredients follow)
For the Garlic Butter Tomato Sauce:
10 ounces fresh cherry tomatoes
1 clove garlic, minced
2 tablespoons butter – I used Land O Lakes® Salted Butter in Half Sticks
1 tablespoon balsamic vinegar
salt and pepper