Roasted tomatoes with white beans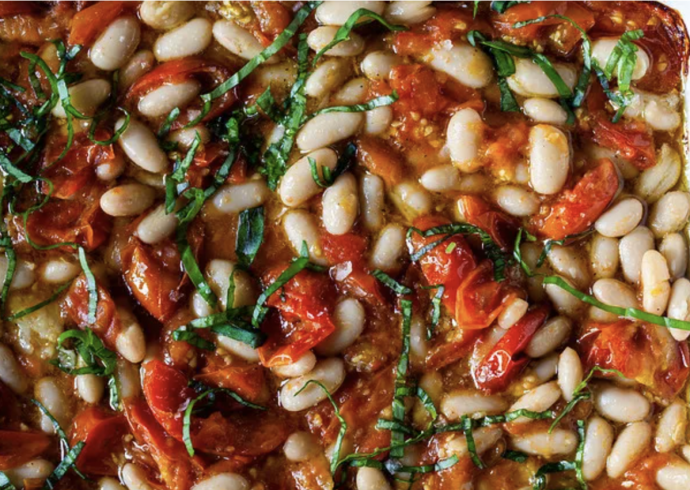 Is July the most lethargic cooking month? I don't mean this in a bad way. I know in our productivity-fixated culture ("so busy, crazy busy") we balk at praising apathy but what if we leaned into it instead? It's hot. The days are long. If midsummer demands some laziness, some loosened grip on to-do lists, if de-participation beckons and we can pull it off, I'd like to try it. I could even schedule it one day next week if I move some things around.
While you can, and probably will, eat directly from the baking dish, it makes the most amazing crostini, ladled warm over pieces of toasted bread. You can tinker with the flavors here almost endlessly: add briny things like anchovies, capers, or cured black olives; add prepared pesto instead of fresh basil, finish with parmesan, pecorino, or even burrata. But I promise that if you only make it with tomatoes, garlic, beans, and basil, you will not feel that you're missing a thing.
Ingredients:
5 tablespoons olive oil, divided
1 pound (455 grams) very ripe cherry tomatoes, halved
6 small garlic cloves, but who is counting, peeled
Kosher salt and freshly ground pepper or red pepper flakes to taste
1 15-ounce can cannellini or other white bean, drained and rinsed
1/4 cup thinly sliced fresh basil leaves, loosely packed