Swedish Meatballs (Best Sauce!)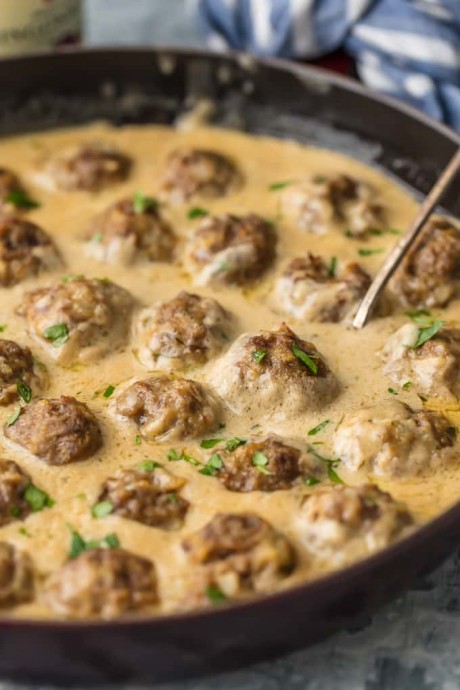 Swedish Meatballs are something every type of cook, from home cook to master chef, should know how to make. This delicious recipe features a simple and juicy meatball that anyone can make, baked in the absolute best sauce ever. This classic Swedish Meatball Recipe is one your entire family will love.
An amazing Swedish Meatballs recipe can knock anyone's socks off and leave everyone wanting more. Eat them as an appetizer for the perfect party snack or over noodles for a delicious meal. These easy Swedish meatballs are so good on their own, but they're just too delicious with that SAUCE! What to even call that sauce? I should just make a bunch and bottle it up because it is amaaaazing. Once you try it, you'll understand what's so great about this recipe. So creamy and dreamy! Traditionally, they are made from a mixture of pork and beef, but we used chicken (instead of pork) and ground chuck. I just think chicken is a great option for meatballs, and it is a leaner option too.
If you prefer, you can follow this recipe and substitute the pork/beef instead. Or you can use all of one type of meat. It's totally up to you! This easy recipe takes about 40 minutes to cook, and I know these meatballs will be requested time and time again. It's so worth it, trust me.
Ingredients:
For the Meatballs
1/3 cup breadcrumbs
½ cup milk
2 tablespoons cream
1 egg large
½ teaspoon kosher salt
¼ teaspoon ground black pepper
¼ teaspoon allspice
¼ teaspoon nutmeg
1 tablespoon fresh parsley minced
1 tablespoon butter
1 tablespoon oil
½ yellow onion minced
1 clove garlic minced
1 pound ground chicken
1½ pound ground chuck
For the Sauce:
6 tablespoons butter
1/3 cup all-purpose flour *See NOTE for an optional thickener
14.5 ounces low sodium beef broth
14.5 ounces low sodium chicken broth
1 cup heavy cream
¾ cup sour cream
1 teaspoon Beef Instant Bouillon Granules I use Wyler's
1 tablespoon low-sodium soy sauce
1 teaspoon Dijon mustard
1 teaspoon Worcestershire sauce
1 teaspoon cider vinegar
1 tablespoon granulated sugar
½ teaspoon freshly ground black pepper
Salt if needed. Taste first.
1-2 tablespoons parsley minced
Optional for Serving
Lingonberry Jam or Cranberry Sauce