Cookies & Cream Energy Bites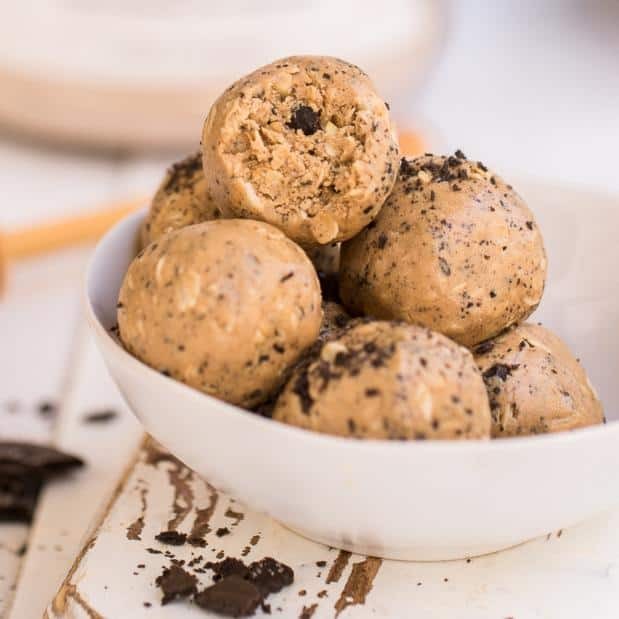 Simple and easy Energy Bites made with only 4 ingredients. Cookies and cream flavored and the perfect healthy snack to have on the go, pre or post-workout, or as a dessert throughout the day. All you need is 5 minutes to whip up these energy balls. All you need is 4 simple ingredients to make these tasty energy bites. Snacks made with pantry staples are the best kind of snacks because you won't need to make a list of ingredients you have to go grab at the store! This healthy snack is the go-to snack that we also enjoy as treats. Made with peanut butter, rolled oats, honey, and protein. It takes just about 5 minutes to make too!
Why this snack is so good? It is healthy: Super healthy compared to other snacks and store-bought energy bars. Made with clean and healthy ingredients. Of course, the sugar-free cookies are optional but recommended for the kids! It's easy: All you need is 5 minutes to make these energy bites! super easy! And it's delicious: They are so tasty and make for a perfect healthy snack or dessert.Energy balls are perfect to have any time of day. Whether you have them on the go in the morning, before or after a workout, as a snack during the day for a nice afternoon energy boost, or a late-night snack! They are just one of those snacks that are very versatile.
Ingredients:
½ cup rolled oats
½ cup no-stir peanut butter
2 tbsp honey or maple syrup
1 scoop Whey Protein Cookies and Cream flavor
3 sugar-free Oreos crushed (optional)