Tuna Patties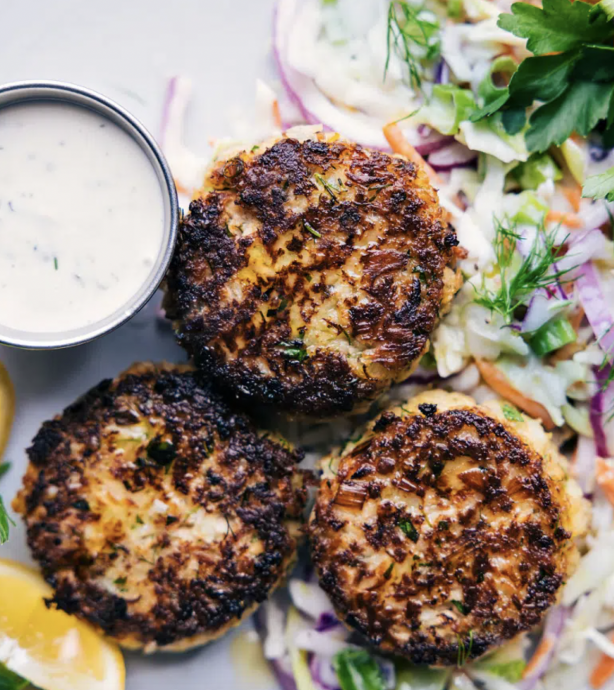 Tuna Patties are packed with flavor and have the best texture — crisp on the top and bottom with a soft (never dry or hard) interior. These patties are so quick and easy to make (thank you, canned tuna!) and sure to be a family favorite! Serve your patties over a quick (two-ingredient) slaw and a tasty tartar sauce. A can of tuna can be transformed into some pretty stellar meals–like these website-favorite Tuna Stacks, this one-dish Tuna Casserole, or this personal favorite Mediterranean Tuna Salad to name a few. We love these easy patties, and if you'd like to try a slightly more sophisticated recipe, how about these Salmon Burgers?
And today we're tossing a few cans of tuna with some fresh herbs, some panko breadcrumbs, a couple of eggs, and a few other ingredients to bring you a new favorite — a fresh and tasty Tuna Patty.
These are the best Tuna Patties — they've got a crisp top and bottom with a soft succulent interior — no dry/hard/flavorless patties here! Also, this recipe is fairly quick and easy to make and a great make-ahead meal — the patties can be assembled ahead of time and cooked later when you're ready to eat.
Ingredients:
Tuna Patties
1 large yellow onion
1 cup Panko breadcrumbs
1/2 teaspoon each paprika, garlic powder
6 tablespoons finely chopped herbs (we love a combo of parsley, green onions, dill)
2 large eggs
1/2 cup grated Parmesan cheese (Note 1)
2 tablespoons lemon juice, plus 1 tsp zest
2 tablespoons full-fat mayo
3 cans (5 oz. each) olive-oil tuna (Note 2)
Salt & pepper, olive oil for cooking
Optional: 1 lemon, tri-colored coleslaw + Litehouse coleslaw dressing (Note 3)
Tartar Sauce
2 tablespoons lemon juice, plus 1/2 tsp zest
1/2 cup full-fat mayo
1-1/2 tablespoons sweet pickle relish
1 tablespoon finely chopped fresh dill
1/2 teaspoon each: Worcestershire sauce, Dijon mustard