Thai Rice Noodle Salad With Chili-Lime Vinaigrette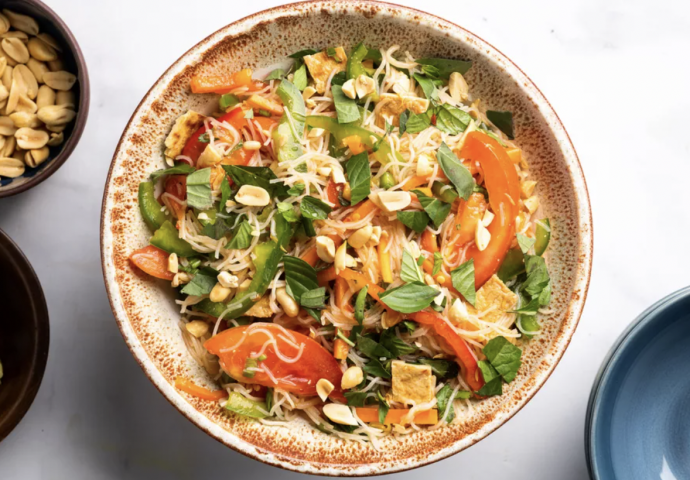 This Thai rice noodle salad is fresh and flavorful, and it's quick to make, too. It features vermicelli rice noodles and lots of fresh summer vegetables—feel free to add or substitute depending on what's available at your local market. You also have the option of tossing in cooked baby shrimp or tofu.
Rice noodles are so much lighter in texture and calories than pasta noodles, and yet they're just as fun and satisfying to eat. This healthy dish will prove to be a big hit at your next potluck, picnic, BBQ, or dinner party. This noodle dish makes a great summertime salad, lunch, snack, or side dish that's low in fat but high in flavor.
This salad tastes best when eaten fresh, as rice noodles tend to dry out when left longer than two days. Until ready to eat, place in a sealed covered container in the refrigerator.
Ingredients
Salad Dressing:
1/3 cup lime juice, from about 3 limes, more to taste
3 tablespoons fish sauce, more to taste
3 tablespoons soy sauce, more to taste
2 to 3 teaspoons sugar, to taste
1 to 3 teaspoons chili sauce, to taste
2 cloves garlic, minced
1 teaspoon sesame oil
Salad:
8 ounces dried vermicelli rice noodles
1 to 2 cups bean sprouts, optional
2 medium tomatoes, cut into small slices
1 medium carrot, sliced into matchsticks
4 medium green onions, thinly sliced
1 small green bell pepper, thinly sliced
1 small red or orange bell pepper, thinly sliced
1 can cooked shrimp, drained, optional, (or substitute with tofu)
1 cup coarsely chopped fresh cilantro, more for garnish
1/2 cup coarsely chopped fresh basil, for garnish
1/4 cup dry-roasted peanuts, coarsely chopped, for garnish