Gluten Free Hummingbird Cake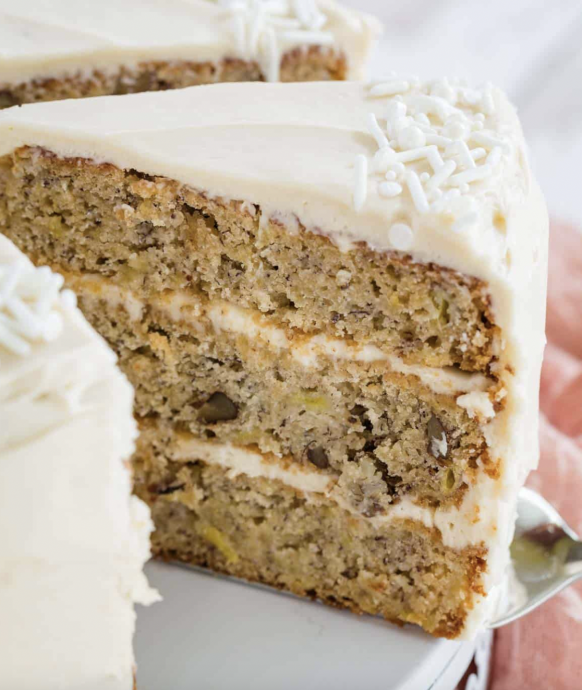 A Southern classic, Gluten Free Hummingbird Cake is a moist and tender, sweet and spiced cake filled with bananas, juicy pineapple, and crunchy pecans. Topped off with a velvety cream cheese frosting, this dessert is perfect for spring and summer!
Hummingbird cake is a traditional Southern recipe with roots in Jamaica. It's usually made as a layer cake and flavored with the tropical flavors of bananas, pineapple, crushed pecans and sometimes coconut, and frosted with a rich cream cheese frosting. Making a gluten-free version of a hummingbird cake is super simple. The key is in the ingredients that contribute all that lovely sweetness and moisture!
Ingredients:
For the cake:
2 1/2 cups 1:1 gluten free flour (recommended: Bob's Red Mill 1-to-1 Baking Blend)
3 teaspoons baking powder
1 teaspoon baking soda
1 teaspoon salt
1 teaspoon cinnamon
1 1/2 cups granulated sugar
4 large eggs at room temperature
1 cup coconut oil melted and cooled (or vegetable/canola oil)
2 teaspoons vanilla extract
2 cups mashed very ripe bananas (about 4-5 bananas)
8 oz. can crushed pineapple in juice, NOT drained
1 cup chopped pecans, lightly toasted
For the cream cheese frosting:
½ cup unsalted butter (one stick), softened to room temperature
8 oz. cream cheese (regular or light), softened to room temperature
2 teaspoons vanilla extract
1 Tablespoon vanilla extract
1/2 teaspoon lemon juice, optional
3-4 cups powdered sugar