Shrimp Boil Foil Packs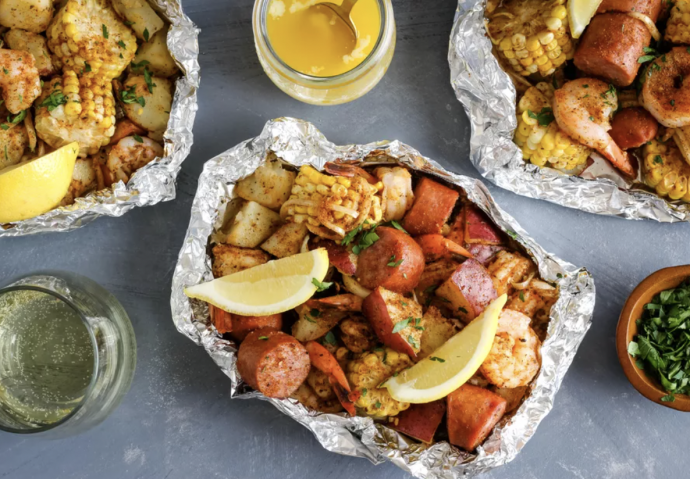 Shrimp boil foil packs are an enjoyable option for a fuss-free weeknight dinner or a weekend backyard grill party. It's everything great about a quintessential low country shrimp boil neatly wrapped in individual packets and without the mess. This might even be the most stress-free and tantalizing summer meal you can prepare.
The recipe is easily scalable to serve more people and can become your go-to to feed larger parties during the summer. It practically ensures that you can be part of the fun. Aside from minimal prep work, which you can do in advance, it all boils down to assembling the packs and throwing them on the grill or in the oven for a few minutes. The key is to precook the potatoes and corn, ensuring everything is perfectly done when you open up the foil.
Ingredients:
1 pound shrimp (31 to 35 count), peeled and deveined
1 pound small red or gold potatoes, cut into 2-inch cubes
2 ears corn on the cob, husked, cleaned, and chopped into small rounds
1 (12-ounce) smoked sausage such as kielbasa or andouille, sliced into 2- to 3-inch-long pieces
1/2 medium yellow or red onion, thinly sliced
2 cloves garlic, minced
4 tablespoons unsalted butter, melted
1 teaspoon kosher salt
1/2 teaspoon freshly ground black pepper
2 tablespoons Old Bay seasoning, plus more for garnish
2 tablespoons flat-leaf parsley, finely chopped, for garnish
2 lemons, sliced (about 12 wedges), for garnish
1 stick unsalted butter, melted, for serving