Easy parmesan pasta frittata with spring greens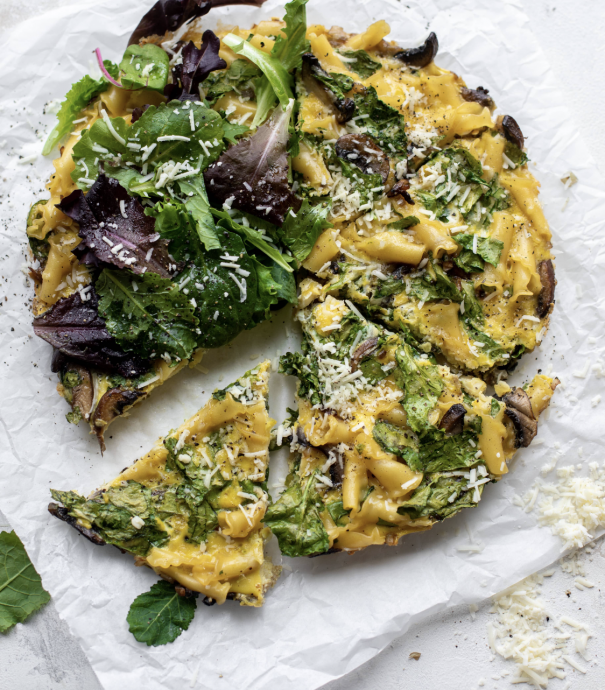 Dinner tonight is the simplest pasta frittata! I promise this is going to be your new go-to easy, favorite weeknight recipe. Because whether you don't know how to cook, don't like to cook or you looooove to cook, you can 100% make this recipe your own! Without even relying on a full recipe.You can use whatever veggies you want. Whatever you have on hand. I used baby bella mushrooms, shallots and baby kale. You can use broccoli, bacon, peas, peppers – seriously, whatever you have on hand!
You can use leftover roasted vegetables from dinner last night. Or you don't have to use any vegetables at all – use bacon or pancetta or ham or even chicken. The options are seriously endless! This is such a versatile meal.
From a former vegetable hater, I suggest not skipping the veg. If you can handle it. Because this is such a great way to get some in (especially ones like spinach or red pepper) without straight up eating a bowl of vegetables.
Ingredients:
3 tablespoons unsalted butter
1 shallot, diced
1 cup cremini mushrooms, chopped
2 garlic cloves, minced
8 large eggs
½ teaspoon salt
½ teaspoon pepper
2 to 3 cups baby kale or spinach
1 ½ cups cooked pasta
⅔ cup freshly grated parmesan cheese, plus more for sprinkling
3 to 4 cups spring greens (or more baby kale or spinach)
1 tablespoon olive oil
2 teaspoons freshly squeezed lemon juice