Falafel Salad Hummus Bowls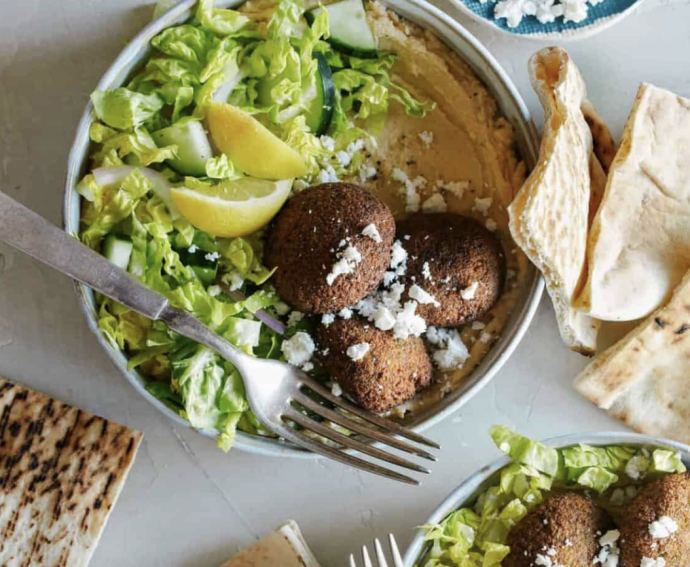 I know I just mentioned it the other day, but my goodness do I love the rain. It was so refreshing to get some heavy showers in LA this past weekend! I love how cozy things get when it's raining, plus I really love how bright, fresh and crisp everything outside seems to get after the rain has passed.
Today we have one of my favorite "bowl" meals for you guys, our Falafel Salad Hummus Bowl! This bowl is filled with so many great flavors and textures and is really great as both lunch and dinner, but my favorite thing about this meal is how portable it is! The only thing I do differently if I'm taking this with me on the go is that I wait to dress the salad until I'm about to dig in. So simple, satisfying and delicious. Enjoy!
Ingredients
falafel balls
2 cups dry chick peas
2 garlic cloves, chopped
¼ yellow onion, chopped
½ bunch curly parsley
½ bunch cilantro
1 tablespoon cumin
3 ½ tablespoons oat flour or all purpose flour
1 teaspoon baking powder
1 teaspoon salt
½ teaspoon cracked black pepper
oil for frying
garlic hummus
2 (15 ounce) cans chick peas, 1 can drained
⅓ cup tahini
1 teaspoon cumin
2 garlic cloves, chopped
zest and juice of 1 lemon
3 tablespoons water
salt and pepper to taste
assembly
3 tablespoons lemon juice
pinch sugar
1 ½ tablespoons extra virgin olive oil
¼ teaspoon salt
⅛ teaspoon cracked black pepper
2 heaping cups shredded romaine
½ English cucumber, quartered and sliced
¼ cup thinly sliced red onion
crumbled feta
lemon wedges