Panzanella Salad Recipe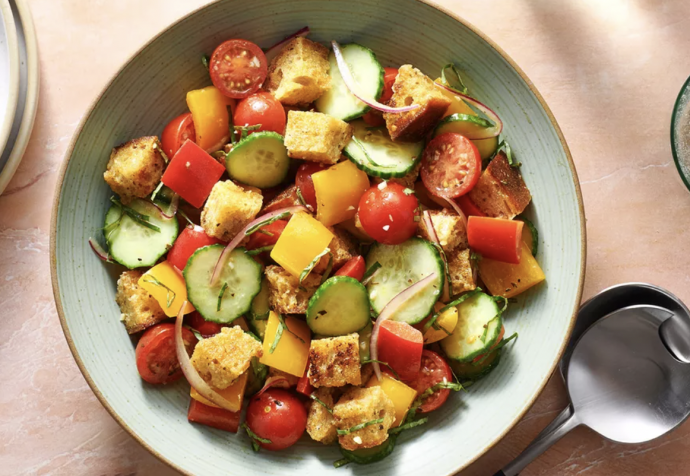 Panzanella is a Tuscan bread salad that includes seasoned cubes of toasted bread, tossed in an olive oil vinaigrette dressing along with an assortment of raw vegetables. The idea is similar to the Middle Eastern fattoush salad which includes toasted pita bread.
The original panzanella salad, thought to date back to the 16th century, called for onions and bread in dressing. Modern panzanella, however, usually includes tomato instead of onion.
This dish is a great way to use stale bread, since it will soak up the dressing well. If using fresh bread, toast it with olive oil in a skillet or in the oven before tossing it in with the dressing. Other typical ingredients in this style of salad are tomatoes, bell peppers of all colors, cucumbers, red onion, and fresh basil. Fresh cheese such as feta or mozzarella is always a welcome addition too.
Panzanella salads are highly customizable, so feel free to add or subtract according to your tastes. Try adding in some crisp greens such as arugula and capers or olives for a salty bite.
Ingredients
For the Bread Cubes:
2 tablespoons olive oil
4 slices Tuscan bread, cut into 1-inch cubes
1/2 teaspoon dried oregano
1 pinch kosher salt
For the Salad:
1 cup cherry tomatoes, halved
1 English seedless cucumber, thinly sliced
1 medium red bell pepper, cut into 1-inch pieces
1 medium yellow bell pepper, cut into 1-inch pieces
1/4 large red onion, thinly sliced
10 large fresh basil leaves, thinly sliced
For the Dressing:
1 clove garlic, minced
3 tablespoons extra-virgin olive oil
1 tablespoon freshly squeezed lemon juice
1 teaspoon Dijon mustard
1/4 teaspoon salt, or to taste
1/4 teaspoon freshly ground black pepper, or to taste