Pesto Pasta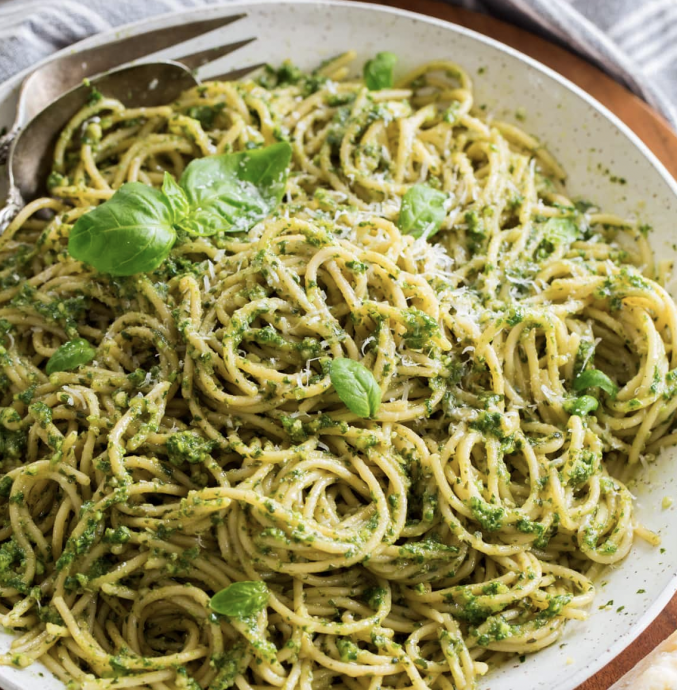 Homemade Pesto Pasta that's overflowing with flavor! It's made with hearty spaghetti and a generous coating of herbaceous, fresh basil pesto sauce. Then it's finished with sharp aged parmesan and rich pine nuts for a toasty crunch.
This pasta dish is proof that it doesn't take much to build up dramatic flavor and create a company-worthy dish.
This is one of my favorite ways to make pasta. It's so vibrantly flavorful, it tastes unbelievable fresh, and pesto makes a nutritious pasta sauce choice.
And if you are lucky to have any left the next day it makes an excellent lunch, which doesn't even need to be reheated by the way. Just thin it with a little olive oil and it's like a pesto pasta salad.
Ingredients:
12 oz. dry spaghetti
Salt, to taste
3 cups (slightly packed, 65g) fresh basil leaves
1/2 cup finely shredded (35g) parmesan, plus more for serving if desired
1/4 cup (36g) pine nuts (toasted or raw), plus more for serving if desired
2 medium garlic cloves, peeled and smashed
1/2 cup extra virgin olive oil
1/2 cup pasta water, divided