Keto Low Carb Cheeseburger Lettuce Wraps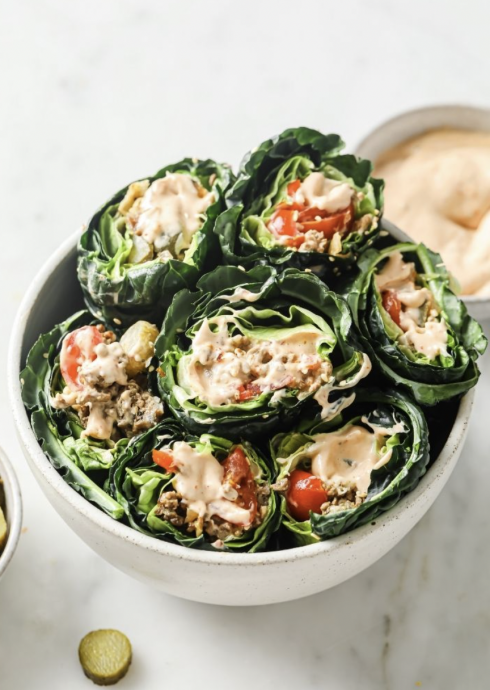 This easy lettuce wrap burger recipe is the perfect way to enjoy a flavorful burger without needing low-carb rolls or making hamburger patties! If you're on a keto diet or just want a low carb meal, these can fit nicely into your meal plans.
These Low Carb Cheeseburger Lettuce wraps are a fun take on the humble classic with a twist. Your favorite cheeseburger… but it's a bunless burger, less heavy and in one handy lettuce cup.
Ingredients:
Ground Beef
15 ounces (10 - 15% fat)
1 small onion finely diced
2 cloves garlic minced
½ teaspoon salt (or to taste)
½ teaspoon pepper (or to taste)
5 slices cheddar cheese (or provolone)
Burger Sauce
½ cup mayonnaise
1.5 tablespoons sugar-free ketchup
1 teaspoon Dijon mustard 1
1 teaspoon coconut aminos
1 teaspoon red pepper flakes
⅓ teaspoon garlic powder
¼ teaspoon black pepper ground
Roll Up
8.5 ounces butterhead lettuce leaves (approx 2 - 5 leaves per roll depending on the size of your leaves)
1 cup cherry tomatoes quartered
½ cup pickles sliced
1 tablespoon sesame seeds toasted (optional)
10 large chard (or cavolo nero stems)