Crispy Fried Zucchini with Best Dipping Sauce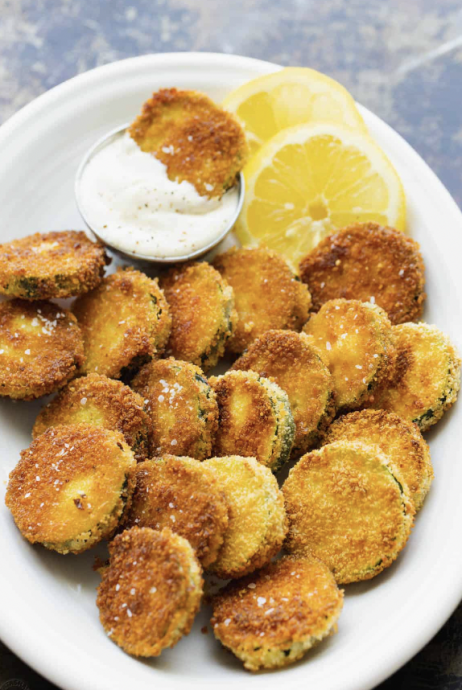 Fried Zucchini goes by many names; zucchini crisps, chips, or bites. Whatever you like to call them, one thing is certain – they are irresistibly good. You can never stop at just one, especially when you serve them with that irresistible zucchini dipping sauce (which is also super easy). Watch the video tutorial below and you'll be craving them.
When zucchini season rolls in, we always have a surplus of zucchini from my Mom's garden so we find creative ways to use them. Some of our favorites include Zucchini Fritters and Zucchini Casserole, but this Zucchini Crisps recipe is our kids' favorite.
Ingredients:
Fried Zucchini Ingredients:
1 1/2 lbs zucchini, (2 medium/large) sliced into 1/2" thick rounds
1/2 cup all-purpose flour for dredging, seasoned with 1 tsp salt and 1/4 tsp black pepper
1 tsp fine sea salt
1/4 tsp freshly ground black pepper
2 eggs, beaten, for egg wash
1 1/2 cups Panko bread crumbs
extra light olive oil, Use a higher smoke point oil for frying
For the Garlic Aioli Sauce:
1/3 cup mayonnaise
1 medium garlic clove, pressed or grated
1/2 Tbsp lemon juice
1/4 tsp fine sea salt
1/8 tsp freshly ground black pepper