Crispy Sesame Tofu With Vegetables Recipe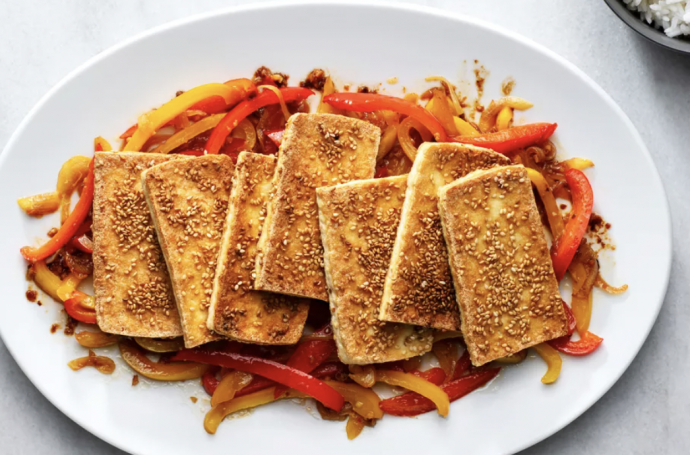 This recipe produces tofu with a crisp, flavorful coating. For the best texture, be sure to drain the tofu well.
Draining tofu simply means pouring off the water that the tofu is packed in. Pressing means to wrap it in cloth or paper towels to let it sit on toweling, weighted down, to force out the excess water within. There are several reasons for pressing the water out of tofu, including to make it firmer and chewier, to make room for it to absorb other liquids and seasonings, such as marinades and spice rubs, and to avoid diluting sauces and dressings.
Ingredients
1/3 cup sesame seeds
1 pound extra-firm tofu (cut lengthwise into 8 slices, well-drained and patted dry)
3 tablespoons vegetable oil
1 small onion (thinly sliced)
1 medium red bell pepper (cored, seeded, and thinly sliced)
1 medium yellow bell pepper (cored, seeded, and thinly sliced)
1 1/2 tablespoons fresh ginger (peeled and minced)
1 teaspoon dark (Asian) sesame oil
1 tablespoon tamari or soy sauce