Roasted Tomato Salsa (Salsa Tatemada)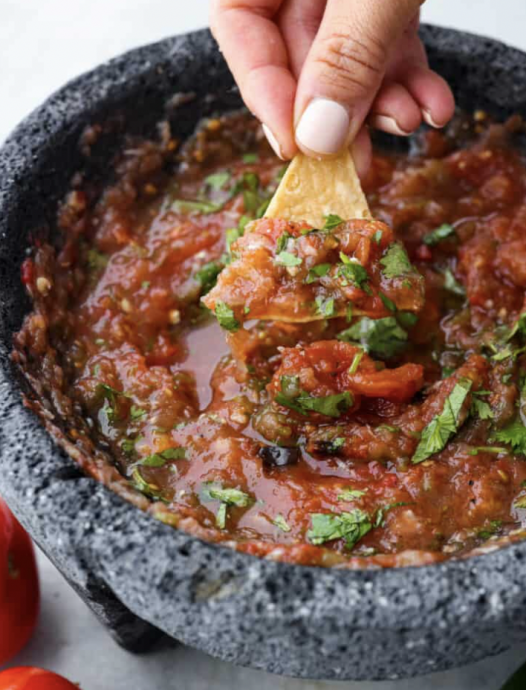 Prepare for the best salsa of your life! This roasted tomato salsa is the best combination of smoky, sweet, and spicy! You'll be hooked after one dip.
There's nothing I love snacking on more than chips and dip. And out of the bunch, salsa and guacamole are easily my favorites! Once you try this roasted tomato salsa, you've got to try out my classic guacamole, slow cooker salsa, and peach salsa too!
I'm not exaggerating at all when I say that this is the BEST salsa that I have ever tried. This roasted tomato salsa recipe is inspired by the salsa tatemada made fresh at Flora Farms in San Jose del Cabo, Mexico. My team and I had the pleasure of visiting Flora Farms and learning all of the best techniques for making some truly knockout salsa! I'm going to share all of the best tips and tricks with you today! I know you'll love the salsa you create just as much as we did! You really can't go wrong with the smoky-sweet flavor of roasted tomato combined with onions, garlic, and jalapeno.Here are a few extra tips and tricks to get you making salsa tatemada like a pro! This has quickly become one of my family's favorite snacks, and I know you and yours will love it too!
Add More Spice: The spice level of this salsa is totally customizable! If you want a little more spice, try adding a serrano pepper in addition to your jalapeno. If you want even more spice, add a habanero pepper!
The More Char, the Better: Don't be afraid of char marks on your veggies! This will make them more flavorful.
Chopping Cilantro: When chopping your fresh cilantro, I like to roll it up like a little burrito and then dice. This way, you have more uniform pieces.
Extra Flavors: You can never go wrong with a little citrus! Adding fresh lime juice is a great addition to the flavor of this salsa.
Ingredients:
4 large roma tomatoes, whole
1/2 white onion, peeled
2 whole garlic cloves, peeled
1 whole jalapeño
1/3 cup cilantro, chopped
salt and pepper, to taste