Pasta Burrata with Roasted Summer Vegetables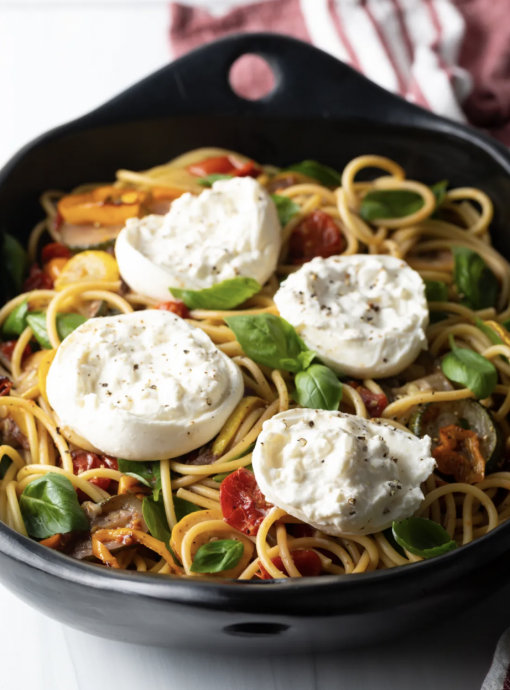 Pasta Burrata with Vegetables – An easy summer recipe made with roasted veggies like zucchini and tomatoes, all tossed with fresh basil and topped with creamy burrata cheese. The combination of savory roasted vegetables and tender spaghetti is a delicious base to enjoy creamy and luxurious burrata cheese. Because, let's be clear… yes the produce and pasta are delicious, but the cheese is the true star of the show here!
This fabulously easy Burrata Pasta recipe features a mix of roasted vegetables that create a simple yet amazingly flavorful pan sauce with garlic, red wine, and olive oil. Toss with spaghetti (or bucatini or fettuccini) and top with generous chunks of fresh soft cheese for a summer dish that's hearty without being too heavy.
Ingredients:
12 ounces cherry tomatoes halved (or grape tomatoes)
1 zucchini sliced
1 summer squash sliced
1 cup sliced mini bell peppers
1 head garlic
3 tablespoons olive oil
½ cup red wine preferably a light wine, like Pinot Noir
16 ounces dried spaghetti
8 ounces burrata balls
1 cup fresh basil leaves
Salt and pepper