Vegan Thai Sweet Potato Soup Recipe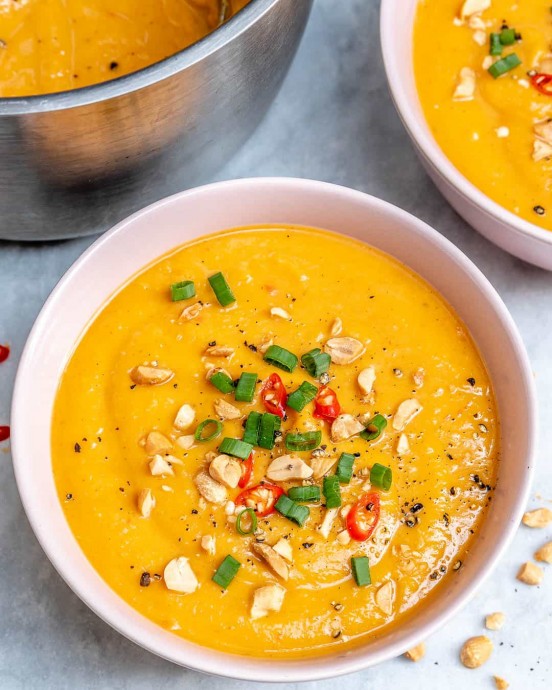 This Vegan Thai Sweet Potato Soup Recipe is so rich, smooth, and creamy. They are easy to make, comforting with a nick of heat and bursting with flavor. Warms you up perfectly when it's cold outside. Think of sweet potato and Thai food. The combination sounds amazing, doesn't it? The sweet and spicy flavors of this Vegan Thai Sweet Potato soup recipe will blow your mind away. It is creamy, sweet, and spicy and so filling and comforting. They are easy to make and just perfect comfort food. Get cozy with this vegan soup recipe!
This soup is loaded with goodies! Chilies, peanuts, ginger, and garlic come together to deliver a sumptuous soup. It's hearty and healthy. Loaded with sweet potatoes and a host of other veggies, this filling soup is pure goodness. A breeze to prep, a big pot of this warming soup is ready in 45 mins. One of the reasons that sweet potato is a great candidate for weight loss is the fact that they are high in fiber, have high water content, and have a low glycemic index. Most importantly is the fact that because they are high in dietary fiber, they take up more space in your stomach and make you feel more full. Therefore they prevent you from overeating and they are much slower to digest. Make this Vegan Thai Sweet Potato Soup Recipe and savor all the health benefits that come with it!
Ingredients:
1 Tbsp Coconut Oil Or Ghee for non-vegans
1 Large Sweet Onions finely diced
2 Celery Stalks Sliced
2 Large Carrots peeled and chopped
2 Garlic Cloves grated
2 Inch Piece Fresh Ginger Peeled and grated
1 Red Chili (or to taste) sliced
1/4 Cup Peanut Butter
4 Cups Low-sodium Vegetable Broth
2 Large Sweet Potatoes peeled and chopped
Sea salt and pepper, to taste
2 Green Onions sliced
4 Tbsp Roughly Chopped Peanuts