Dr. Pepper Pot Roast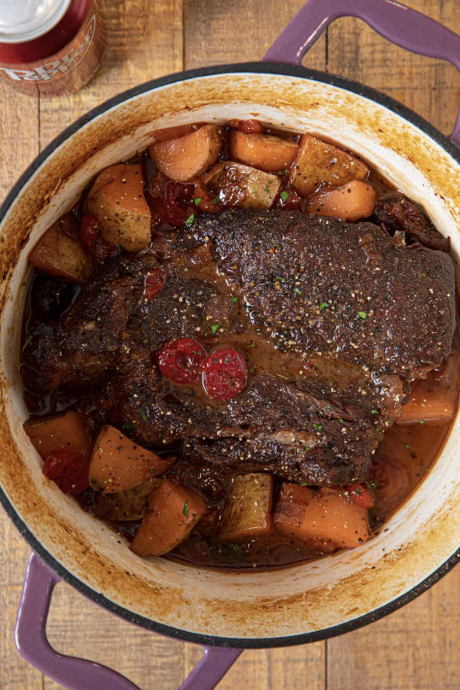 Dr. Pepper Pot Roast is a delicious hearty one pot meal! Sweet and spicy "pop" roast and potatoes braised with Dr. Pepper, potatoes, chipotle, and cherries. Dr. Pepper Pot Roast starts with seasoned chuck roast, diced potatoes, and beef broth and gets a smoky, fiery kick from chipotles in adobo balanced out by sweet soda and cherries. Its equal parts savory, sweet, and spicy for a new twist on a classic dish. Plus its made in one pot so the clean up and cooking is beyond easy! While this Dr. Pepper Pot Roast has some heat, it's still a very family friendly dinner recipe, thanks to the sweetness of the maraschino cherries. If you are worried about it being too spicy though, you can always substitute them with mild dried ancho chili peppers. Soak the peppers in water until plump and rehydrated before using.
Dr. Pepper Pot Roast is such an easy one pot meal, you just sear the roast, sauté the onions, then dump every thing in the pot and bake in the oven. Once it's in the oven, there's no need to stir or check on it for a few hours so its a perfect weekend meal. Just get it ready in the afternoon, pop in the oven, and go about your day until dinner time.
Ingredients
4 pounds chuck roast , boneless
1 teaspoon Kosher salt
1/2 teaspoon coarse ground black pepper
1 tablespoon vegetable oil
1 large yellow onion , diced
4 Yukon potatoes , cut into 2" chunks
2 chipotle peppers in adobo sauce , with sauce
12 ounces Dr. Pepper
2 cups beef broth
2 tablespoons brown sugar
1 cup maraschino cherries , halved including juice