Blueberry Sausage Biscuit Casserole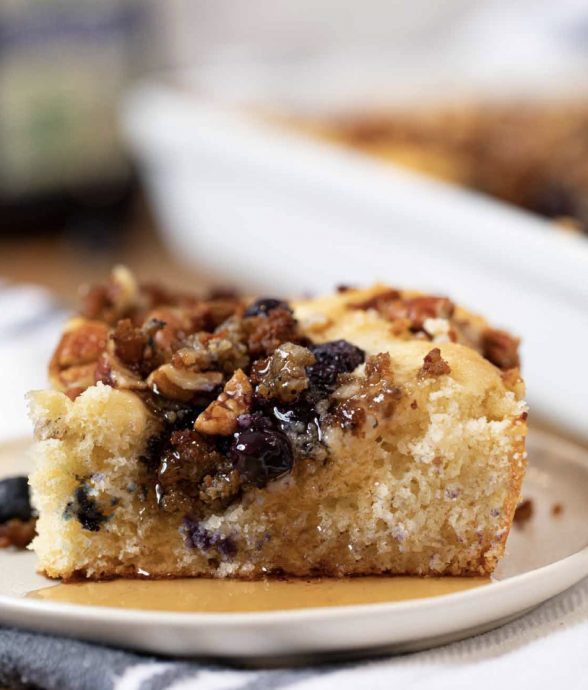 Blueberry Sausage Biscuit Casserole is the perfect combination of savory and sweet. With brown sugar, sausage, fresh blueberries, and crunchy pecans.
This Blueberry Sausage Biscuit Casserole brings together two breakfast favorites, sausage and blueberry, into one dish. You'd usually have blueberries in a sweet recipe, like Blueberry Crumb Muffins, however this recipe takes those sweet ingredients you love and adds savory sausage to them. Top it with maple syrup for a perfectly sweet and savory breakfast delight!
The crumbly cake in the casserole also strikes the perfect balance between sweet and savory. It's slightly less sweet than a cake and more sweet than a biscuit. The texture is also somewhere between a cake and a biscuit. While the tender breading absorbs sweet juice from the blueberries it also pairs perfectly with the sausage. Think of this recipe like a Blueberry Coffee Cake combined with sausage and biscuits.
Or better yet think of the base of this like a hybrid biscuit-cake-pancake with sweet and savory flavors and of course that crunch from the pecans which get all toasty in the oven.
If you top this with some maple syrup or pancake syrup and serve some eggs or fruit on the side you will have the happiest brunch gathering, ever.
Ingredients:
1/2 cup unsalted butter , softened
2/3 cup sugar
1/4 cup brown sugar , packed
2 large eggs
2 cups flour
1 teaspoon baking powder
1/2 teaspoon baking soda
1 cup sour cream
1 1/2 pounds pork sausage , cooked
1 1/2 cups fresh blueberries
1/3 cup pecans , chopped