Beef Bourguignon Recipe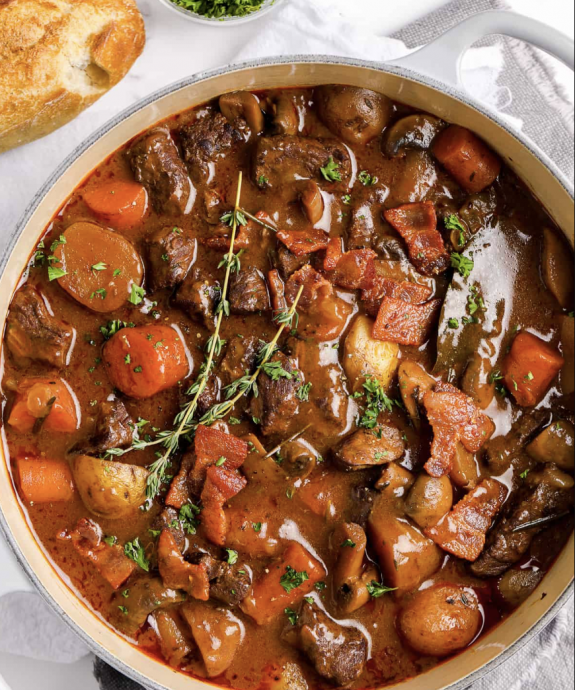 Beef Bourguignon (pronounced "bef bur-gee-nyon,") is a beef stew recipe. The difference between this recipe and a regular beef stew is the amount of wine added to the broth giving it a deep flavor.
Carrots, onions, mushrooms, and garlic round out this one-pot meal. The whole thing bakes in the oven until tender.Potatoes – Baby potatoes hold their shape well and require no peeling however Yukon gold or red potatoes will work too. Russet potatoes (or baking potatoes) are more grainy and don't hold their shape as well.
I add the potatoes in but you can leave them out and serve this dish over mashed potatoes instead.
Seasonings Herbs like thyme, rosemary, and bay leaf enhance the flavor of this slow-cooked masterpiece. Fresh or dried will work.
Ingredients:
½ pound bacon chopped
3 pounds chuck cubes or stewing beef
1 teaspoon salt
½ teaspoon pepper
1 onion chopped
2 carrots chopped
3 tablespoons flour
4 cups beef broth heated
2 cups red wine
12 ounces mushrooms
1 pound baby potatoes optional
3 tablespoons tomato paste
3 cloves garlic minced
2 sprigs fresh thyme or ½ teaspoon thyme leaves
1 sprig fresh rosemary or ½ teaspoon dry rosemary
1 bay leaf
parsley for serving