Apricot Cream Cheese Thumbprint Cookies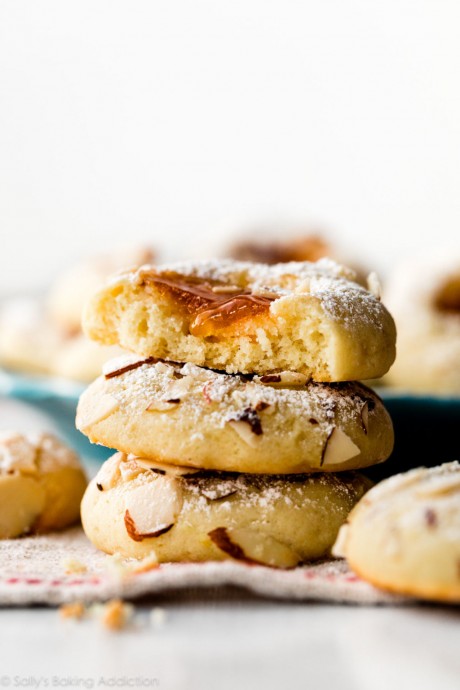 These thumbprint-style apricot cream cheese cookies include cream cheese in the dough, so they're extra tender and soft. They're flavored with almond extract and refreshing lemon zest, rolled in sliced almonds for a little crunch, and filled with apricot jam or preserves. Strawberry, peach, or raspberry are also delicious!
Have you ever tried lemon ricotta cookies before? These apricot cream cheese thumbprint cookies have a similar melt-in-your-mouth texture with the bonus of a jammy filling. In fact, if cream cheese pound cake was a cookie, it'd be this. The almonds add a little crunch, so if you crave a little texture contrast– don't skip them. Mixing the cookie dough together is pretty easy, but assembly requires a little extra effort– rolling the dough balls, coating in almonds, making a thumbprint, and filling with jam. Take your time and don't rush. Set aside enough time to chill the cookie dough. We use enough cream cheese in the dough to make a uniquely tender cookie, but it also creates a very sticky creamy dough. This dough needs time in the refrigerator to thicken properly before shaping and baking.
It's sweet with a little tang, but benefits from extra flavor. In another test batch, I added lemon zest for a fresh zing and almond extract, both of which pair beautifully with the apricot center. If you enjoy soft and fruity cookies, you'll enjoy biting into these! If you're not into almond & apricot, here are some other suggestions: Skip the almond extract and lemon zest. Roll in finely chopped pecans and fill with strawberry jam. Swap apricot jam or preserves for blackberry jam or preserves. Skip the almond extract and lemon zest. Roll in finely chopped walnuts and fill with apple butter. Swap apricot jam or preserves with blueberry. Serve with a cup of tea.
Ingredients:
2 and 1/2 cups (315g) all-purpose flour
1 teaspoon baking soda
1/4 teaspoon salt
6 ounces (170g) block full-fat cream cheese, softened to room temperature
1/2 cup (1 stick; 115g) unsalted butter, softened to room temperature
1 cup (200g) granulated sugar
1 large egg, at room temperature
1 teaspoon lemon zest
1 teaspoon pure vanilla extract
1/2 teaspoon almond extract
6–7 Tablespoons (120-140g) apricot jam or preserves
optional: 3/4 cup (95g) sliced almonds
optional: 3 Tablespoons (23g) confectioners' sugar for dusting