Pulled Pork Grilled Cheese Sandwich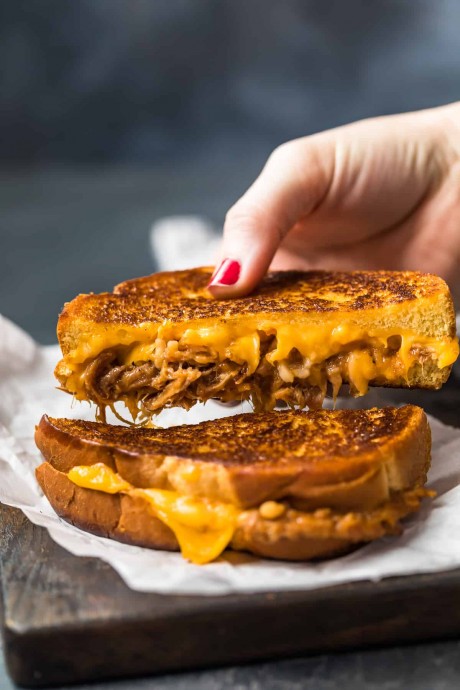 This Pulled Pork Grilled Cheese sandwich combines two of the tastiest things in the world: pulled pork and grilled cheese! Sweet and smoky pork with creamy cheese in a sandwich -it doesn't get more satisfying than this! Pork leg or pork shoulder (butt) are both perfect for making pulled pork. You want to make sure you use a cut of pork that shreds easily and has a good ratio of meat to fat to keep the meat juicy without being overly greasy.
Sometimes marrying up two beloved dishes doesn't end well, but sometimes it creates a thing of beauty. This Pulled Pork Grilled Cheese Sandwich is definitely the latter!
Succulent pulled pork is slathered in a finger licking BBQ sauce, topped with bubbly cheddar cheese and crispy onion straws, all nestled between layers of gently sweet brioche. This is the ultimate grilled cheese sandwich! You really can't go wrong combining tender pulled pork in a sweet, tangy and spicy BBQ sauce and then smothering it in ooey gooey melted cheese! Call it a pulled pork sandwich, call it a grilled cheese sandwich, call it whatever you like, just make it, you won't be disappointed!Pulled pork often served with the addition of a cool and creamy coleslaw. You can have it on the side, or put a cheeky bit in the sandwich, though it does make for a slightly messier sandwich!
Ingredients:
1 tablespoon olive oil
1 clove garlic minced
1 pound pulled pork you can find a great recipe by clicking the link
1 cup local BBQ sauce
8 slices Brioche Bread
8 slices deli American cheese from the deli counter
1 cup french fried onion straws
1/4 cup mayonnaise