Gluten-Free Almond Cake with Berries on Top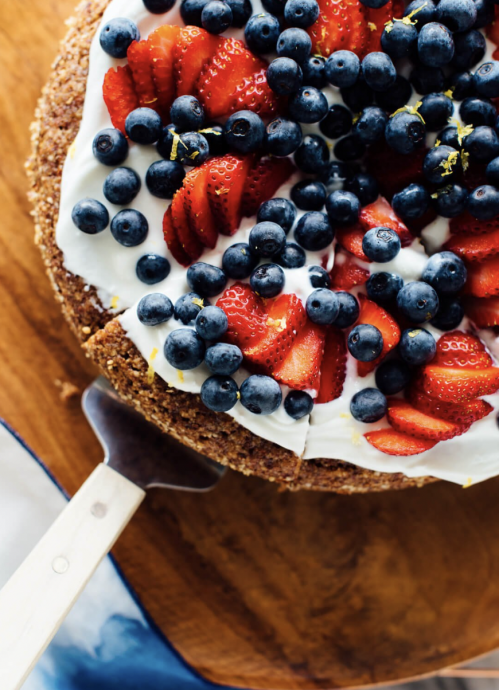 Would you look at that red, white and blue showstopper? I've been dreaming of this almond cake concept for months, and I'm sharing it just in time for your Fourth of July festivities. It's my abstract, gluten-free version of a flag sheet cake.
This gluten-free almond cake is lightly sweetened with maple syrup (or honey), infused with fresh lemon flavor, and topped with creamy Greek yogurt and fresh strawberries and blueberries. It's a winner!
The cake itself is tender and possesses an almost graham cracker-like flavor, thanks to the combination of almond meal and maple syrup. It's not overtly sweet like boxed cake mixes, but it definitely tastes like a treat.
This beauty would be a dessert for any occasion (use any variety of seasonal fruit). It's also wholesome enough to pass for breakfast or a mid-afternoon snack.
The best part? It's very easy to make! No mixer required.
Ingredients:
Cake
2 cups firmly packed almond meal or almond flour (8 ounces), plus extra for dusting the pan
1 teaspoon baking powder
½ teaspoon baking soda
½ teaspoon fine sea salt
¼ teaspoon ground cinnamon
4 eggs
⅔ cup maple syrup or honey
¼ cup extra-virgin olive oil
1 ½ teaspoons grated lemon zest (from 2 medium lemons, preferably organic), plus more for garnish
Glaze and topping
2 tablespoons lemon juice
1 tablespoon maple syrup or honey
1 cup plain Greek yogurt or whipped cream
½ pound ripe strawberries, thinly sliced
1 cup fresh blueberries (6 ounces)