Italian Pinwheel Sandwiches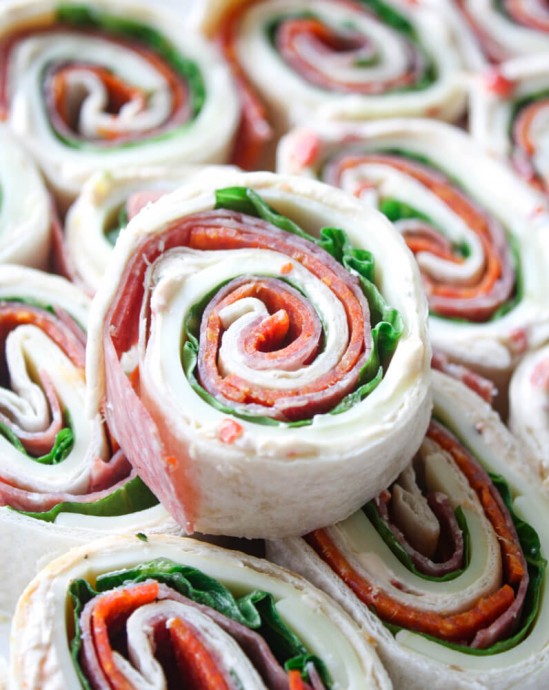 Italian Pinwheel Sandwiches with Cream Cheese appetizers. Fast, easy and no cooking required! Got tagged to bring something for a potluck? Wondering what to bring to the potluck? No problem these Italian Pinwheels are great appetizers that require no cooking and little effort. The perfect finger food for snacking. Everyone loves these little rolled up sandwiches. It is simply layering ingredients on a tortilla and rolling. Once it is rolled up you slice it up and boom you have pinwheels! You don't want to slice pinwheels too thin. The minimum should be at least 1 inch thick.
Once you make pinwheels, you will want to make them again. You can create your own recipe with your favorite flavors. Here is a list of ingredients to create cold pinwheel sandwich recipes. Cheeses: Swiss, Cheddar, Mozzarella, Gouda, Colby. Any cheese that is deli/sandwich sliced will work. Deli Meats: Ham, Turkey, Roast Beef, Chicken, Bacon, Prosciutto. Spreads: Cream Cheese Spreads, Ranch Dressing, Mustard, Mayonnaise; Greens: Green Leaf, Boston, Spinach, Kale, Arugula. You can buy flavored cream cheese spreads in the refrigerated section of your supermarket. Try sweet instead of savory like honey pecan cream cheese spread. There are so many variations to making pinwheels you can almost never go wrong!
Pinwheel sandwiches are good for a day. The lettuce inside will start to wilt by the next day. I don't recommend making these too far in advance unless you omit the lettuce.
Ingredients:
3 large flour tortillas
7 oz Genoa salami slices
7 oz pepperoni slices
9 slices Provolone cheese
green leaf lettuce
8 oz cream cheese softened
1/4 cup Italian bread crumbs
1/4 cup grated Parmesan cheese
3/4 cup jarred sweet red peppers chopped
3/4 cup jarred banana peppers chopped