Peanut Brittle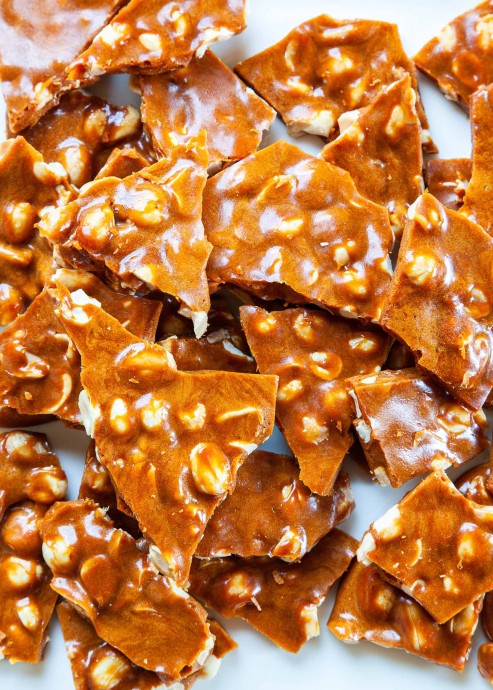 Peanut Brittle is easy to make at home and great for holiday gifts, or just to have around the house when unexpected guests show up. Breaking apart the brittle is a fun holiday tradition!
Homemade brittle is actually fairly easy. Start by placing sugar, corn syrup, and water in a large saucepan and heating it to make a caramel—which happens when sugar is heated to a specific temperature, melts and starts to decompose.
Once the caramel is ready, add baking soda (see below for why!), and then the peanuts. Pour the entire mixture onto a pan and spread out it while it's still liquid (and hot). As the candy cools, it hardens and becomes brittle. Once totally cooled, it can be broken into smaller pieces to enjoy! Peanut brittle is an easy candy recipe to adapt to your own taste. Feel free to substitute a different type of nut, such as pistachio or hazelnut, for the peanuts. Just chop the nuts to the size of peanuts if they are large. You can also dip the cooled and broken brittle into melted chocolate if you like!
Ingredients:
1 cup (200 g) white sugar
1/2 cup (150 g) light corn syrup
1/4 cup (57 g or 1/2 stick) unsalted butter
1/4 cup water
2 teaspoons vanilla extract
3/4 teaspoon baking soda
1/4 teaspoon kosher salt, omit if using salted peanuts
1 1/4 cups (175 g) unsalted dry roasted peanuts