Chicken and Potatoes with Dijon Cream Sauce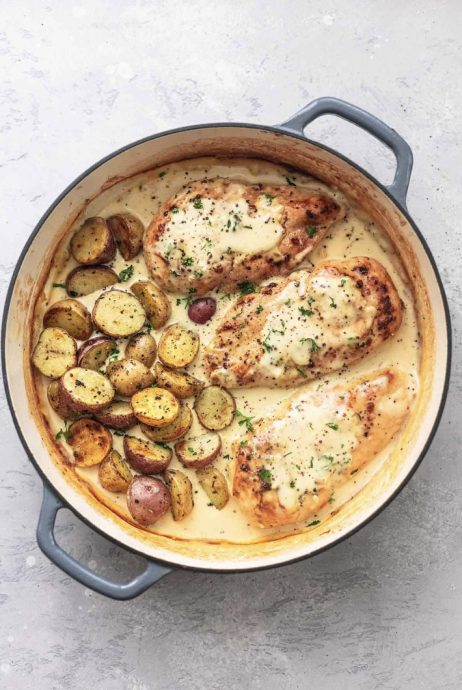 Chicken and Potatoes with Dijon Cream Sauce is a flavorful one-pot wonder that's good for any night of the week. Italian seasonings and Dijon mustard blend beautifully together in a rich, buttery sauce that goes perfectly with the tender chicken and potatoes.
Easy chicken and potato dishes are a great way to use up pantry staples like potatoes and herbs and freezer staples, like plain old boneless, skinless chicken breasts. Putting these two together in a rich, creamy dijon sauce is a great idea, honestly.
Why, you ask? Well, because dijon is a great flavoring. It's mustardy, but milder than using yellow mustard or whole-grain mustard. It's a little salty, a little acidic, and has a touch of heat believe it or not. But this recipe only uses two tablespoons so it's just enough flavor without being overpowering.
Ingredients:
3 medium boneless skinless chicken breasts
2 teaspoons Italian blend seasoning - OR Herbs de Provence
salt and pepper to taste
2 tablespoons butter
2 tablespoon olive oil
½ pound baby potatoes - halved or quartered as needed (they should be no large than 1 inch pieces)
for the dijon cream sauce
1 tablespoon butter
1 teaspoon minced garlic
1 cup chicken broth - I used low sodium
2 tablespoons dijon mustard
1 cup heavy cream
½ teaspoon salt - or to taste
¼ teaspoon cracked black pepper - or to taste