Cherry Pie Bars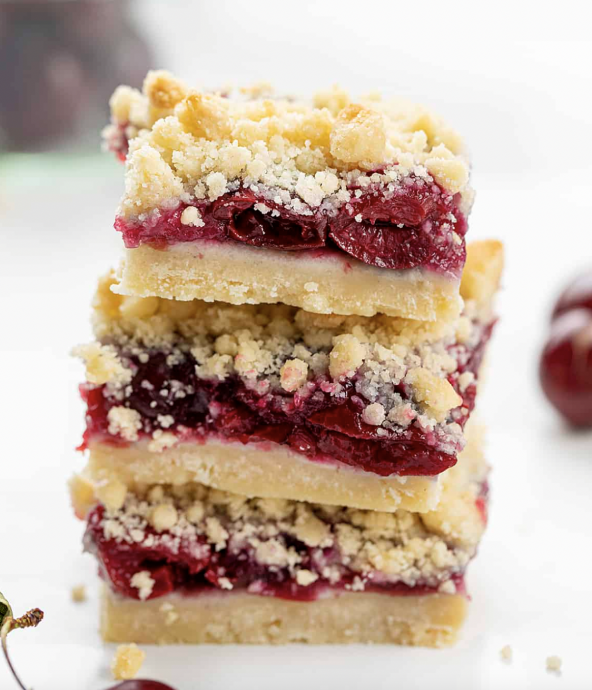 Cherry Pie Bars are sweet dessert bars with a buttery crumble crust topped with homemade cherry pie filling. It's like enjoying a cherry pie without all the fuss of baking a pie!
I love a crumbly, buttery crumb, so I knew this recipe would be a winner. And then, my homemade cherry pie filling set the bars to a new level of yumminess. It's not a hard recipe to make, using ingredients you probably already have on hand. And, if you love cherries, you will not want to pass up these bars!
Butter: Melt the unsalted butter and then let it cool a bit before mixing with the sugar.
Pie Filling: I used 2 cups of my homemade cherry pie filling. However, you could get by with a 21-ounce can of store-bought pie filling as well. If you use the canned pie filling, the bars will be a bit sweeter and will look redder (brighter). If cherry pie filling is not your choice for the filling, try another kind! You could use apple pie filling, peach, blueberry, or your favorite fruit pie filling.
Ingredients:
½ cup (1 stick / 113 g) unsalted butter, melted, cooled to room temperature
½ cup (100 g) granulated sugar
1½ cups (187.5 g) all-purpose flour
½ teaspoon baking soda
½ teaspoon baking powder
¼ teaspoon kosher salt
2 cups (510 g) cherry pie filling