Crispy Smashed Potatoes with Garlic and Parmesan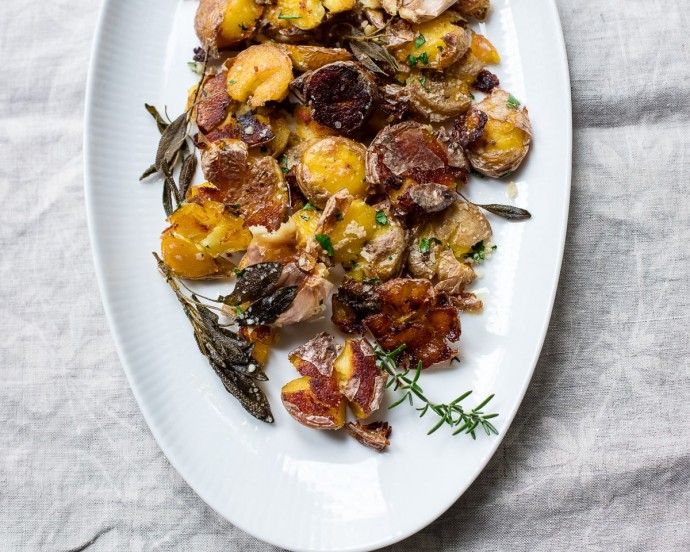 How to make crisp, crusty roasted smashed potatoes without deep-frying, with whole garlic cloves, rosemary and sage. These are a winner! If you love extra-crisp, crusty potatoes but aren't much of a deep-fryer, this is your new go-to recipe. These smashed potatoes are so simple to make, and insanely delicious. You know what they say about a certain brand of potato chip? Well, for me these potatoes are even better than chips, because they have a lot more going on than just salt and grease.
That includes well-done crunchy bits, tender chunks of potato flesh, wispy, crisp sage leaves and soft, creamy roasted garlic cloves. And, last but not least, a good sprinkle of Parmesan cheese as they come out of the oven. Taking the extra step to briefly boil the potatoes before roasting them in a hot oven is a genius move. The potatoes soften just a bit, creating an outer layer of starch that crisps up better than if they'd gone straight into the oven.
Ingredients:
2 pounds (900 g) baby Yukon gold potatoes, 1 1/2 – 2 inch diameter
Kosher salt
1/3 cup (75 ml) olive oil or canola oil
3 or 4 plump garlic cloves
3 sprigs each fresh rosemary and sage
1/4 cup (25 g) grated Parmesan cheese
2 tablespoons chopped fresh parsley